Canadian Organic Trade Association's 11th Annual Organic Week
Karen Squires
Canada's National Organic Week is the largest annual celebration of organic food, farming, and products across the country, and this year marks the 11th anniversary!
The celebration is a collaboration between the Canada Organic Trade Association (COTA) and its members and partners to grow awareness of organic across Canada.
The organic market represents almost 6.4 billion dollars in sales annually and continues to grow as two thirds of Canadians purchase organic products weekly. During COVID 19, survey results show Canadians are focusing more on healthy food and grocery shopping selection has become more important than ever.
The goal of Organic Week, happening September 7 to 13 this year, is to increase awareness of all organic products and to ensure consumers understand why it's important to support organic, which promotes better overall health of people, animals, soil, and the planet. The theme of the campaign this year is "I Choose Organic," which captures the essence of the importance of consumer choice and how it affects the planet, especially in relation to climate change. We are very pleased to see so much support and collaboration from members this year, especially with so many other competing priorities. As well, COTA has evolved the creative messaging to tell the Organic Story in a simple but compelling way through multiple media platforms.
The Organic Week campaign has multiple elements, including a national advertising campaign supported by The Globe and Mail and regional publications such as Now Magazine, The Georgia Straight and Montreal En Santé.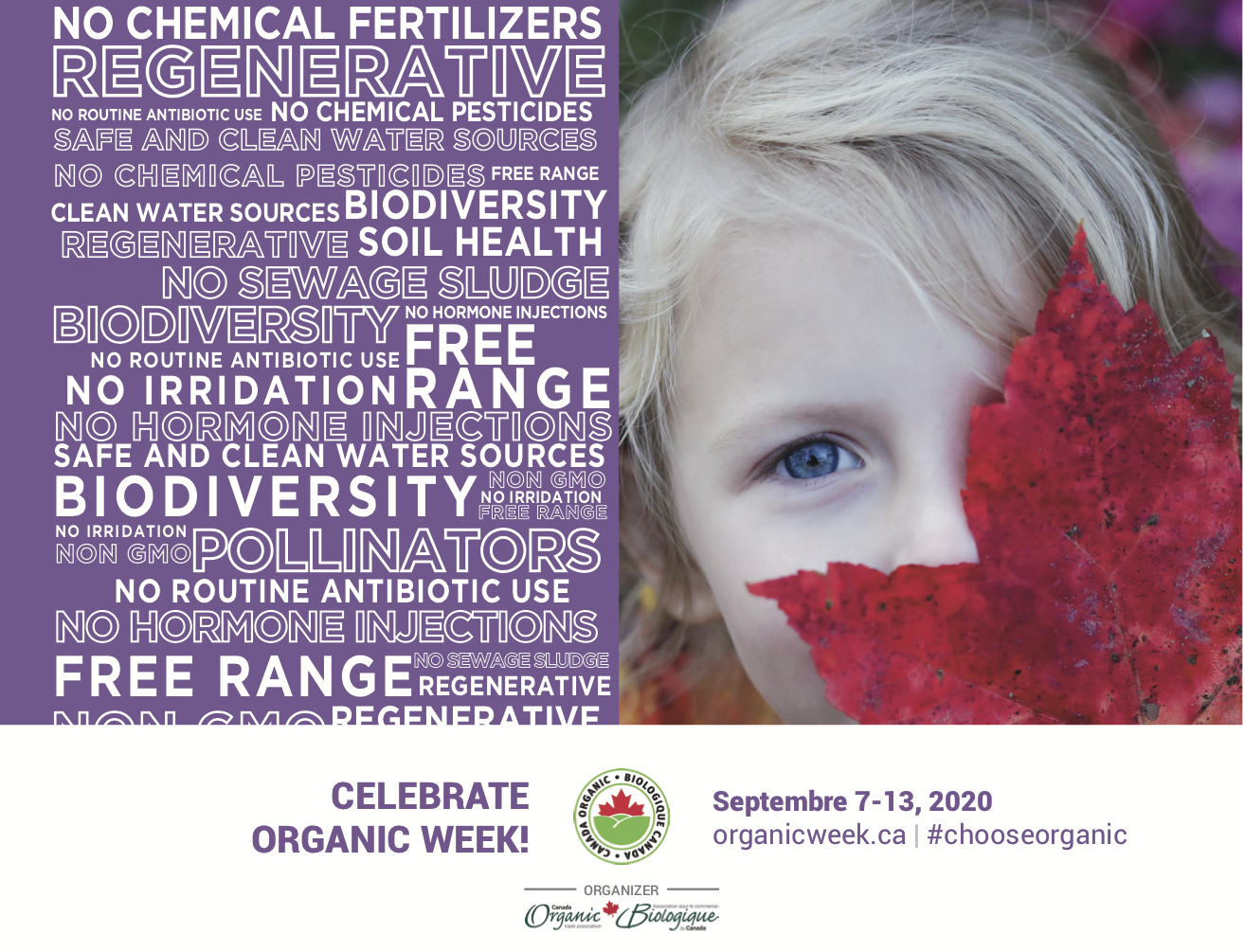 This year, for the first time, COTA is creating videos directly by farmers, sharing their story on why they grow organic. These videos are personal, engaging, informative, represent multiple sectors, and will be shared through social media platforms such as Facebook and Instagram.
The social media campaign will feature several contests with which consumers can engage to share their recipes and knowledge of organic, and win great prizes! In creating these contests, we also hope to spread more understanding on why choosing organic is an important decision and what it means to choose organic.
Ways to Participate
The Recipe contest is a simple and fun way to participate in Organic Week. Simply take a photo of your favourite organic recipe and post it on Facebook, Instagram, or Pinterest using the hashtag #OrganicWeek. We will also have a multitude of prizes from our sponsors so stay tuned.
Test your knowledge on organic with our IQ Quiz contest. The quiz consists of 10 questions that will test your knowledge on organic and upon completing the quiz you will be entered to win some prizes.
Our third contest is the Spot Canada Organic Contest, which highlights an interactive way for our contestants to be on the lookout for organic products. To participate, if you see the Canada Organic logo take a picture and share using the hashtag #OrganicWeek on Facebook, Instagram, or Pinterest.
All three contests open September 1st, 2020 at 12am EST / 9pm PST and end September 30th, 2020 at 11:59pm EST / 8:59pm PST. The winners will be selected based off creativity and presentation and will be announced on Facebook and Instagram on October 10th, 2020. This year we are also continuing with our #OrganicChat campaign.
Another important component of this campaign is the engagement of retailers across Canada. Retailers selling and promoting organic products will be highlighting organic and offering incentives during Organic Week. As such, COTA provides these retailers with display materials that are used to celebrate Organic Week and educate consumers. Stay tuned as many retailers across the country look at new and innovative ways to help consumers discover organic products during the month of September. Two thirds of Canadians purchase organic products weekly, a number which continues to grow—and we want to help consumers make informed healthy lifestyle decisions.
Outside of the campaign, COTA also provides a series of new research through data reports and surveys. We have found that during the pandemic many people are still choosing organic, even with the challenges they are facing. This newfound information has showcased to us and our members how significant organic is, especially when society is faced with new challenges. COTA features a multitude of resources outlining the significance of the sector and what COTA, along with our members, does on our website.
COTA would like to thank COABC and everyone in BC's organic sector for their ongoing support and collaboration. To learn more about COTA and membership with COTA, find information about research reports, and to receive ongoing communications and support, please visit canada-organic.ca
---
Organic Week is coordinated by The Canada Organic Trade Association (COTA) with the help and support of their sponsors and members who make it possible. COTA's mission is to promote and protect the growth of organic trade to benefit the environment, farmers, the public, and the economy.