Devon Cooke
On April 15th, I uprooted myself from my Burnaby basement suite, packed as much as I could into my hatchback, and hit the road. Pandemic lockdown plan: go to where the food is. Destination: Amara Farm in the Comox Valley. I had negotiated what I thought was a pretty sweet deal. Amara Farm would provide me with room and board, and I would offer my labour on the farm. And one more thing: while I was there, I'd be filming my documentary, The Hands that Feed Us, about how farmers are coping with COVID-19.
I'm a city boy, with no farm experience and no particular desire to be a labourer, but Arzeena was thrilled to have me on the farm. Usually, she relies on interns for labour, and with travel shut down for COVID, she was wondering how she was going to get through planting season when I called. For myself, I saw a selfish opportunity to make my film, but also a safety net. The apocalyptic part of my mind could see the possibility of a Great Depression, and I wanted to be at the front of the breadlines. I might not make any money on the farm, but I wouldn't starve, and I'd be learning how to grow food to feed myself, if it came to that.
I've had back problems for almost 20 years, and the legendary farmer work ethic made me a little nervous about how my body would stand up. I was envisioning working the fields sun-up to sun-down, so I was pleasantly surprised to learn that the farm's work hours were 8:30-4:30, with a full hour break for lunch. Those are better hours than I've ever worked, and certainly much better than the 12-plus hour days that are standard in the film industry.
The last hour of the first day turned out to be the hardest on my body. My assigned job was to mark holes for onions that would be planted: three rows per bed, spaced 12 inches apart. Doing this efficiently meant squatting down, marking a few holes, standing up, shifting down the row, and squatting down again. Squatting was especially bad for my back, and with three beds left, I couldn't stand straight. At that point, the farm manager, Kate, took pity on me and took over. I felt defeated. Kate's comment: "That's farm life. Sometimes it defeats you."
Since then, I've had days where my back was sore, but my body has toughened up as I've gotten used to farm work, and now I don't worry about my back. For the first time in years, I'm not paying $120 a month to have someone "fix" my back. Who knew that all I really needed was some actual work!
One day, I wanted to film customers, so I needed to stay close to the farm gate where I could intercept them before they picked up their orders. I couldn't be in the fields while I waited, so I asked if there was any work I could be doing between customers. There was! The wash station was right where I would be waiting, so I was assigned to wash produce tubs.
After a few hours and a half dozen customers, I thought, "Gee, I wish I could be doing something more useful with my time." Cleaning tubs didn't feel like "real" farm work—real farm work was planting, or seeding, or weeding. But, as I ruminated a bit more, I became aware of the prejudice in my thought. Cleaning tubs is just as much a part of farm work as seeding or weeding. If I didn't clean them, someone else would have to do it later. Cleaning tubs is useful work; it was only the mundane nature of the task which made me feel like I wasn't contributing to the farm.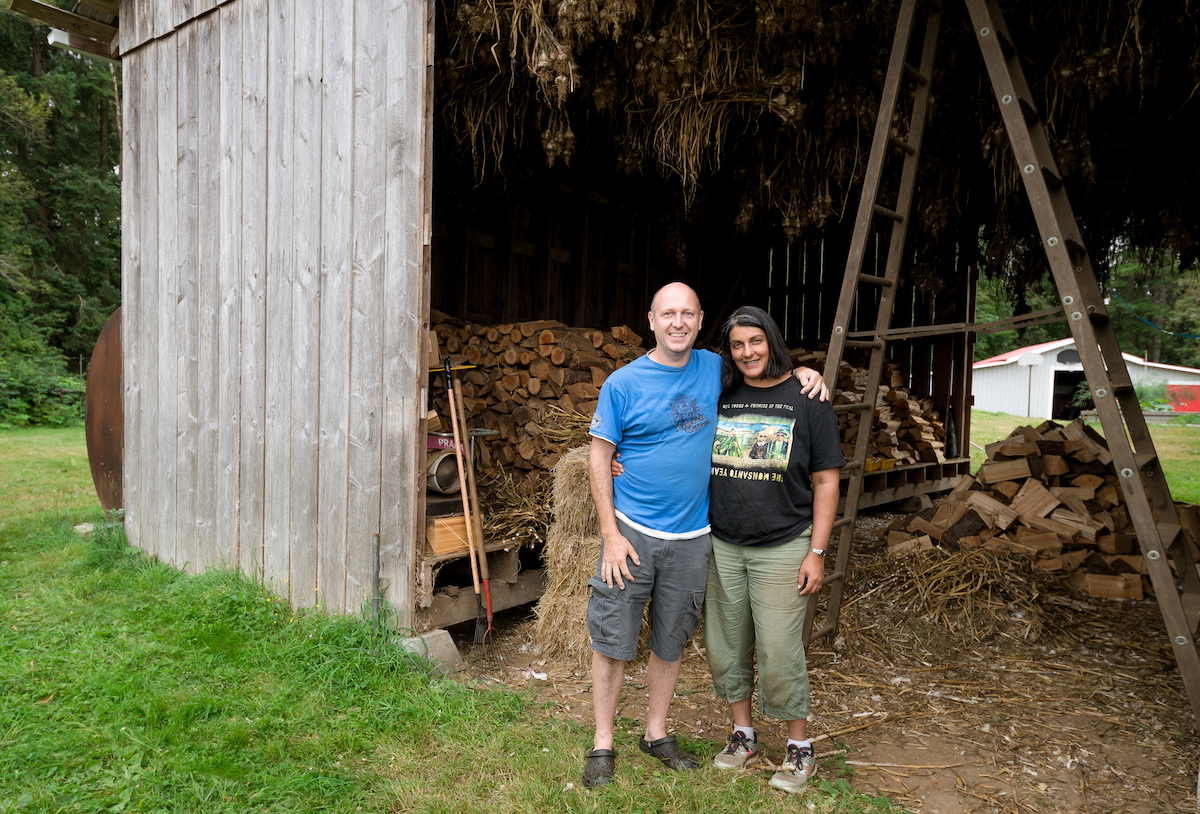 My realization contains a bigger lesson. We don't tend to place much value in the mundane. We like cleanliness, but cleaning tubs is a job for somebody else, and often we want to pay the absolute minimum to get the job done. Food has the same problem. What could be more mundane and routine than eating a meal? We eat three times a day—and we do it quickly and thoughtlessly so we can spend our time on "more important things." Is it any wonder that our culture spends so little on food?
This cultural attitude was illuminated for me enroute to my next farm. I stopped in Vancouver for a day or two, which meant that for the first time in two months I had to buy my food at a store instead of just raiding the seconds bin.
Walking into Whole Foods, I was overwhelmed. Any food I could imagine was on a shelf somewhere, enticingly displayed and picture perfect. For a moment, I had no idea what to do. At Amara, I cooked whatever was growing at the farm; the idea that I could simply buy a pair of artichokes and a lemon for dinner didn't make sense. Are artichokes in season? How long ago was the lemon picked? I couldn't answer these questions, and that disturbed me because, at Amara, I would have known the answers intimately. I had helped grow it!
Allow me to use Whole Foods as a symbol. In our culture, Whole Foods is a shrine to food; it represents the best of our cultural ideals around food: organic, wholesome, healthy, and plentiful. It's more expensive, but people shop there anyway because they care about the quality of their food. Before I set out on this journey, I was a worshiper at the shrine of Whole Foods. And, indeed, the values behind Whole Foods are good values, ones that I still hold dear.
Nonetheless, my time on the farm has taught me that Whole Foods is a false idol. The ubiquitous bounty on the shelves, the fact that I can buy mangoes from the Philippines at any time of year, all that encourages me to treat food as mundane, as something I can obtain on a whim if I'm willing to part with a sufficient amount of cash. Because it is so easily available, I'm discouraged from knowing where the food was grown, who picked it, and what growing conditions were like. I can't know these things even if I want to; I simply trust that Whole Foods has taken care of that for me. I pay a bit more to Whole Foods because I believe they are better priests of food than the ones at Superstore, but the bottom line is that I'm still delegating control of my food to someone else. In doing so, I treat food in the same way I was thinking about cleaning tubs: a job for someone else.
I'm now on my third farm and fifth month of this journey. I've had many lessons since I left Amara Farm, with many more to come in the coming months. I expect that once winter comes, I'll stop working on the farm and focus on completing my documentary. I can't say what I'll be doing for food at that point, but I can say that I won't be satisfied shopping at the supermarket. Now that I've spent time learning how to grow food, I don't think I can simply put food in my mouth without asking where it came from or how it was grown.
---
Devon Cooke is making The Hands that Feed Us, a documentary about how farmers make a living during COVID-19. You can follow his journey as a farmhand online.
Feature image: Basil harvest at Amara Farm. Credit: Michaela Parks.