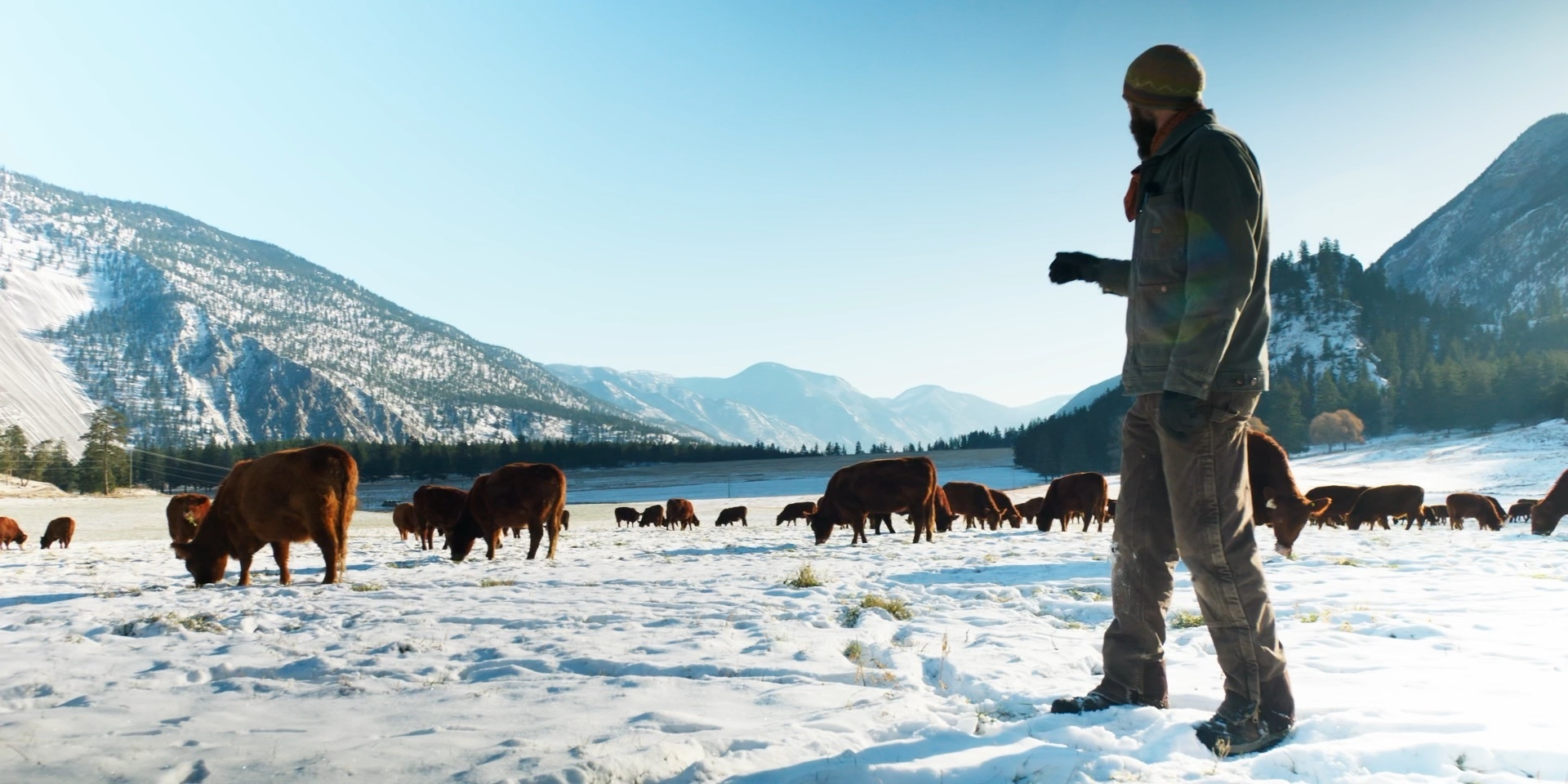 By Stacey Santos
Spray Creek Ranch, located in Northern St'at'imc Territory near Lillooet, BC, has operated as a cattle ranch since the 1880s. Over the past decade, Tristan Banwell and his partner Aubyn have managed the land and transformed it from a traditional cow-calf operation to a diversified, regenerative organic farm with cattle, sheep, pigs, poultry, horses, and a trusty herd of guardian dogs.
One of their key practices is rotational grazing— frequently moving cattle through pastures to allow forage to recover and regrow. It's a practice they started at the end of their first summer at the farm, and they immediately saw the value in being able to control the cattle's impact on the land
In a recent episode of Organic BC's Organic Innovation Series, Tristan took viewers on a journey through a year on grass for their cattle and shared winter-specific tips, techniques, and equipment.
Benefits of Rotational Grazing
Rotational grazing offers big returns when it comes to plant, animal, and soil health.
Plant health: When animals munch on plants without giving them a chance to grow and redevelop their leaf area, the plants are weakened and forced to recover from their root reserves instead of using their photosynthetic capability to grow. With rotational grazing, the goal is to move the animals before they take that second bite, and then backafter the plants have recovered.
Animal health: When animals are frequently moved from pasture to pasture, they have fewer chances to ingest and complete parasite life cycles. And there's a nutritional benefit too: animals preferentially graze all of the highest quality forage first (a bite off the top of every plant) and if left in one location, over time they'll eat poorer and poorer quality forage and their nutritional plane will decline. But if you move the animals frequently, they'll escape this longer period of decline and will have improved health and more consistent weight gains thanks to a consistent supply of nutrient-rich regrowth.
bit.ly/organicbcpodcast50 Under a rotational grazing system, cattle distribute their manure evenly throughout the farm, resulting in increased soil fertility. And, plants that have more extended rest periods grow bigger and deeper roots, which increases organic matter in the soil.
When to Start Rotational Grazing
Spray Creek Ranch starts when there's enough growth in the spring to turn the cows out and start grazing, and typically a little earlier than general recommendations. By setting back some of the forage growth, they're able to stay ahead of the growth, which will be mature and seeding out before they know it.
They start in the area with the most residual left over from the previous year to balance out nutritional needs, giving cattle the opportunity to have a bite of new spring growth and a bite of dried out stockpile (a technique that also reduces the "green fire hose" effect caused by high-protein spring feeds!).
As the forage quickly grows in May and June, the cattle are still moved frequently but the paddock sizes become smaller to ensure the cattle are clipping off about two-thirds of growth in each paddock as they go.
July and August bring lots of nice green growth, but lots of mature grass as well. This is an opportunity to make a deposit into the soil. With frequent rotations in tight paddocks, everything that's not eaten is trampled down to feed the soil. In mid-August, the cattle are brought to Spray Creek Ranch's mountain grazing lands, where they'll stay until October. With no cattle on the farm, the pastures are able to regrow as much as possible and ideally remain in a vegetative state as they go into fall dormancy. When the cows return from range, the winter stockpile grazing program starts, with cattle grazing primarily on dormant season grasses. If they run out of stockpiled forage or the snow gets too crusty and the cattle can no longer graze through it, they'll be switched to hay.
Stockpile Grazing
There are a lot of reasons to do as much stockpile grazing as possible, but the biggest reason is cost savings. The highest expense in a typical cattle operation is winter feed costs. Every day that your cattle are grazing in a field that you didn't have to use a machine to harvest or feed, you save quite a bit of money.
The goal with stockpiling is to go into winter with as much stockpiled vegetative forage—tall grass that hasn't yet gone to seed—as possible. But it doesn't just happen!
"You have to plan for it in advance, and planning for stockpile grazing starts during the growing season," says Tristan.
During the high growth period in the summer, the fields are grazed or hayed to keep the plants in vegetative growth. That's different from the typical goal of going into the winter with as much hay as possible, so at some point you need to stop grazing the field and let it regrow and stockpile.
A good time to start stockpiling is early to late August. If you start too early, the grass will grow large but then go to seed and the quality of the forage will diminish. The ideal is to go into winter with a tall, vegetative sward of grasses that haven't gone to seed yet—tall enough that it will hold up in the snow and be visible to the cattle.
Equipment
Tristan uses the same electric fencing equipment in the wintertime as in the summertime: a quarter-mile geared reel (with a hook on the end to energize the polywire) and a battery powered hammer drill with a long masonry bit to put the posts into the frozen ground.
For more tips and crucial considerations on electric fencing for rotational grazing systems, be sure to listen to episode 50 of the Organic BC Podcast, in which Tristan interviews fencing expert Axle Boris of Fencefast: bit.ly/organicbcpodcast50
Bale Grazing
Once stockpile grazing needs to be stopped, either because forage ran out or conditions aren't permitted anymore, you can shift to a technique called bale grazing.
Rather than rolling out bales of hay for the cows every couple of days, set out bales in a grid pattern across a whole field in one go—laying out one to two months of feed—and picking a field that will benefit from a fertility boost from the residual hay and cow manure.
"Since we don't use fertilizers, being an organic farm, we like to put the fertility back on the field that it came from," says Tristan.
Other perks of bale grazing are that you don't have to go out in inclement weather (you can pick a nice day to set out bales), you don't have to fire up your tractor when it's minus 35, and you can easily go away for a period of time.
There are cost-saving benefits from the producer side as well—moving bales around is expensive!
Winter Watering Systems
Spray Creek Ranch is lucky to have gravity fed irrigation systems running off two mountain creeks behind the farm. They use this network all throughout the farm in the summertime.
In the winter, they have a few natural water sources, including a warm spring, but they've also installed a few automatic waterers, fed by a three-quarter inch water line deep in the ground to prevent freezing. To help keep the plumbing system toasty, Tristan keeps the water trickling with overflow running into a pit drain—a technique that works well with gravelly, sandy soil. At lower temperatures, he also uses a water heater and trace cable along the pipes.
Always a Work in Progress
There's so much complexity in diverse farms like Spray Creek Ranch that use agroecological systems of farming.
"Sometimes I think about our farm, that's been a work in progress since 1880," says Tristan. "We're never going to be at the end point. There's always more we can learn. We're always iterating, adapting, and observing the outcomes of our management choices. When you're rotational grazing, every single day is a chance to observe the animal impact on your systems, and every year is a chance to set goals for how to improve it."
Learn more by watching episode four of Organic BC's Organic Innovation Series featuring Spray Creek Ranch: Winter Rotational Grazing Systems: youtu.be/QMlZvYteZfc
Watch more videos from Organic BC: youtube.com/thisisorganicbc
---
Rotational Grazing & Methane Reduction
Charlie Lasser runs Lasser Ranch, an organic ranch just outside of Chetwynd with 900 head of cattle on over 5,000 acres. He's a pioneer and leader in the organic community and continues to innovate his practices, including feeding seaweed to his calves!
Calves burp out about 400 litres of methane each day. To combat these powerful emissions, Charlie feeds seaweed to his young stock, which reduces methane in their systems and helps the animals gain more weight. A win-win all around not just for producers, but also for the climate and the planet.
Learn more in episode five of Organic BC's Organic Innovation Series: youtu.be/RZW28V05vcU
---
Stacey Santos is the Communications Manager for Organic BC. She lives, writes and gardens in the beautiful and traditional territories of the Lekwungen peoples, who are now known as the Esquimalt and Songhees Nations.
This project was supported by the BC Climate Agri-Solutions Fund. Funding for the BC Climate Agri-Solutions Fund was provided by Agriculture and Agri-Food Canada through the Agricultural Climate Solutions – On-Farm Climate Action Fund.
Featured image: Tristan Banwell with winter grazing cattle at Spray Creek Ranch in Lillooet. Credit: Spray Creek Ranch.