Many Strands Make a Strong Food Web
Darcy Smith
Farm-to-fork has come to embody the eating ethos of people seeking a deeper connection to healthy, local food—and Urban Harvest has been putting the "to" in farm-to-fork for the last 20 years. Lisa McIntosh co-founded the Okanagan-based organic home delivery service with her partner at the time, David Nelson, in 2000.
For Lisa, "logistics are the part that makes the local food system work." For the farmers who supply Urban Harvest, there's no doubt she's right. Lisa's goal, and Urban Harvest's slogan, has always been "bringing the farm to your doorstep."
Urban Harvest was born out of "a read desire to support sustainable agriculture," Lisa says. When Lisa and David started Urban Harvest, she was just coming out of a degree in sociology and anthropology, with a focus in community economic development. She'd been interested in the sustainable agriculture field for years, and when David put the idea of an urban delivery business on the table, Lisa "loved the fact that we could be connected to farmers but not be farming ourselves, that we could help get the food to customers wherever they are."
"People can't always make it to the Farmers' Market," Lisa points out. "There's a carbon efficiency to home delivery as well. Rather than 60 people trucking down to the market, we can cover that same route, and reduce waste because you don't have to have everything packed and labeled in the same way."
Lisa, and Urban Harvest, quickly built relationships with growers in the region. From WWOOFing at Sudoa Farm in the Shuswap, where she learned about growing and packing produce from Sue Moore, to getting involved with the North Okanagan Organics Association, to meeting Hermann Bruns at Wildflight Farm, word about Lisa and Urban Harvest got around fast.
Urban Harvest now supplies between 400 to 600 families with local, organic produce each week. Lisa sources food from growers around the Okanagan as a priority, and from further afield when necessary to ensure a wide selection throughout the year. Urban Harvest offers standard regular and family-size produce boxes year-round. Each week, Lisa plans out the boxes based on what's seasonally available—and what the good deals are—which is "a bit of an art." Then, customers can see what's on the docket for that week and customize or add to their orders, providing them with a flexible and convenient way to access local food. They place their orders, and Lisa communicates to the farmers, who harvest on Monday and get their product to Urban Harvest.
She drives down to the South Okanagan weekly to pick up from several farms. "There's a jumble every time, figuring out," she says. "The beautiful part is I get to see the farmers every week. It's a little more legwork—and arm work—for sure."
Wildflight Farm in the North Okanagan has been dropping off produce from Wildflight and other farmers in the area to Lisa for years, which has been a huge advantage to both Urban Harvest and the half-dozen farms who make use of the service. Other producers have different arrangements, with products getting shipped to, or dropped off at, the warehouse, and some growers piggybacking on each other's shipments, so that someone's 100 pounds of plums, which might not be worth it on their own, can go with someone else's 800 pounds of apples. Whatever it takes to get the product from the farm to Lisa, and then to the customer's front door.
All that flexibility no doubt caters to the consumer, but Lisa is careful to ensure she's meeting the needs of farmers, too—it's a constant juggling act, and one she loves. She does an annual planning session with growers, she says, "to reduce overlap and maximize supply, so farmers are planting with us in mind. We know we have a supply we can count on and they have a market they can count on."
Like any healthy ecosystem, Urban Harvest is part of a web of interdependencies—relationships based on trust and community. For Rebecca Kneen of Crannóg Ales and Left Fields, "Lisa's produce buying policies have made a huge difference in the viability of organic vegetable farms in the North Okanagan."
From the annual planning meetings to Lisa's ability to look at what's available locally that week and use as much of it as possible, farmers are benefitting from Urban Harvest's approach. "That kind of flexibility is invaluable for small-scale farmers," Rebecca says. "Lisa McIntosh always has the interests of her farm suppliers close at heart." The organic community recognized Lisa's many contributions by presenting her with the Brad Reid award in 2019.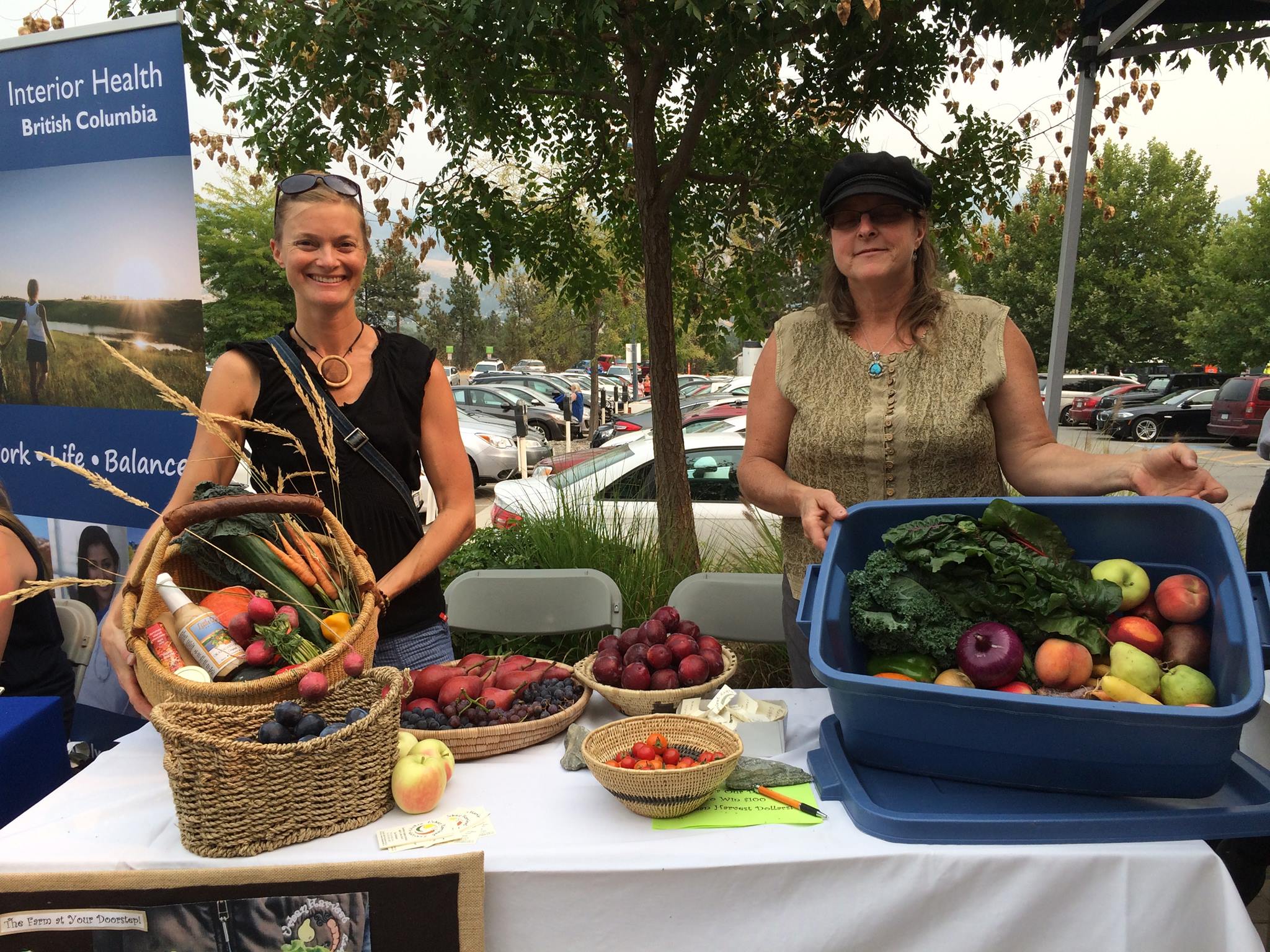 It's no surprise that farmers value Urban Harvest so deeply: the feeling is mutual. "I feel so privileged to have these relationships with farmers—such talented, dedicated farmers—and with customers who deeply care as well, and staff who have given so many of their years," Lisa says.
Urban Harvest has evolved over two decades in business, but remains true to the values it was built on. They've experimented with Saturday markets, donated a ton of food, and, in 2016, a partnership became a sole proprietorship. With all that change, "our little business has trucked along all these years with things coming and going, we just seem to have found our niche," Lisa says. "And customer number one is still a customer!"
When Lisa took the leap of faith and moved into running Urban Harvest solo, she found herself facing a big learning curve, especially, she says, on "all the things on the physical side, which I'd missed out on over the years." She's been able to grow into the new roles, and was heartened at "finding the support of staff and customers who believed in the business, and the farmers—there was a lot of interest from the farmers that we keep it going." That support showed up in all sorts of ways, right down to one particular farmer showing Lisa how to use the hand truck. Lisa also sings the praises of her team, several of whom have been with Urban Harvest for anywhere between seven and twelve years. "It's been great to be able to rely on my staff," she says.
"Lisa has quietly and rigorously implemented her philosophy of supporting the local organic farming community year after year," Rebecca says. And that's never been more important. Not only did customers flock to delivery when COVID-19 hit, so did growers. All of a sudden, farmers were dealing with the uncertainty of how they would get their produce to market.
The global pandemic impacted many farmers who relied on Farmers' Markets and direct marketing relationships with consumers, leading some to find ways to do more online direct marketing, through taking pre-orders for pick-up or even trying home delivery themselves.
"The market was always there," Lisa says, "and it was interesting to see how quick people were to look for that." Delivery is a great option to reach out to customers. Some farmers love it, while others find it hard, with all the logistical challenges.
"Home delivery is on the uptick," Lisa says. "With things like the red onion scare recently, people like having a product they can put a face on. Home delivery helps put a face on the supply."
And while COVID-19 has meant extra steps in terms of sanitation, and some anxiety around keeping everyone healthy and safe, business-wise, Lisa has found the positive in these strange times. Weekly orders are selling out quickly—once in just 12 minutes!—and she hasn't been able to sign up new customers since March. She's had hundreds of new inquiries that she's been able to direct to similar businesses, like Farmbound in Vernon. It's felt good to have somewhere to send interested customers. "One of the beautiful things about a healthy food system is to have lots of options," Lisa says. "Many strands make a strong web."
In the end, of course, it all comes back to the food: "We have such an abundance of quality in the region, it's such a joyful thing," Lisa says. "I think we're moving forward with a strong organic sector." There's no shortage of consumer support for organic, she says, but "on the supply side, can we keep up, and bring the next generation into farming? Is there a future for them?"
With businesses like Urban Harvest out there, at the centre of a web of connections that makes it all happen, it's easy to take an optimistic view of the future.
---
Darcy Smith is the editor of the BC Organic Grower, and a huge fan of organic food systems, from farm to plate and everything in between. She also manages the BC Land Matching Program delivered by Young Agrarians.
Featured image: The Urban Harvest team takes a break. Credit: Katie Nugent Photography.