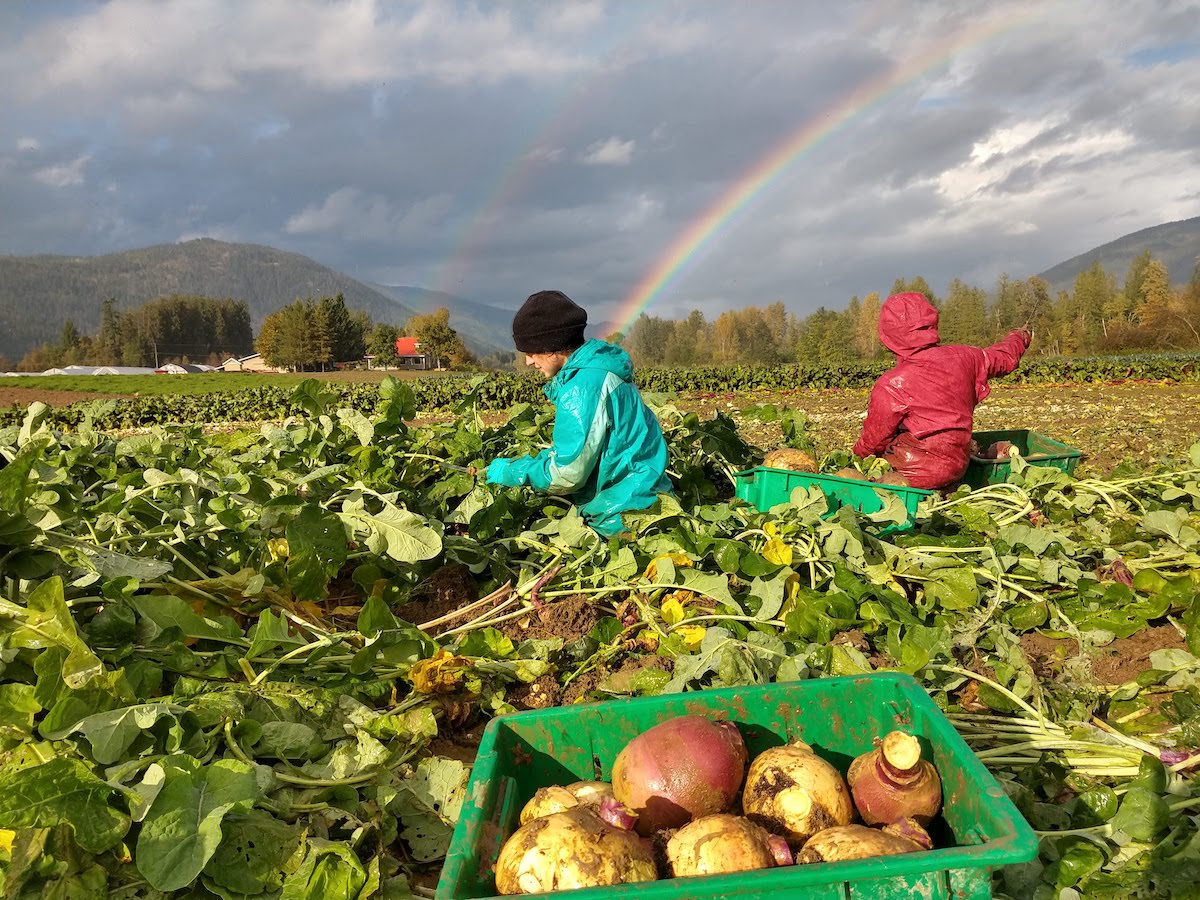 A Community Movement Takes Flight
By Brianne Fester
Wild Flight Farm was never really part of the plan. In fact, Hermann Bruns grew up just down the road from the Wild Flight farmstead, and actually worked very diligently for 10 years to ensure he was on track to do quite the opposite of farming. But fate had other plans!
After their respective studies of geography and biology, Louise and Hermann met in Tumbler Ridge while working for a mining company. Both passionate about being active outdoors, exploring nature, and living as environmentally-conscious as possible, they began to recognize a disappointing lack of options for local and organic produce.
For Louise, switching gears and becoming a farmer was a clear choice. Deciding to grow the food that they themselves were unable to find was a way they could "walk the talk."
Becoming organic growers was not only a way to advocate for living with less environmental impact, but it would provide a tangible way for others to make that choice as well.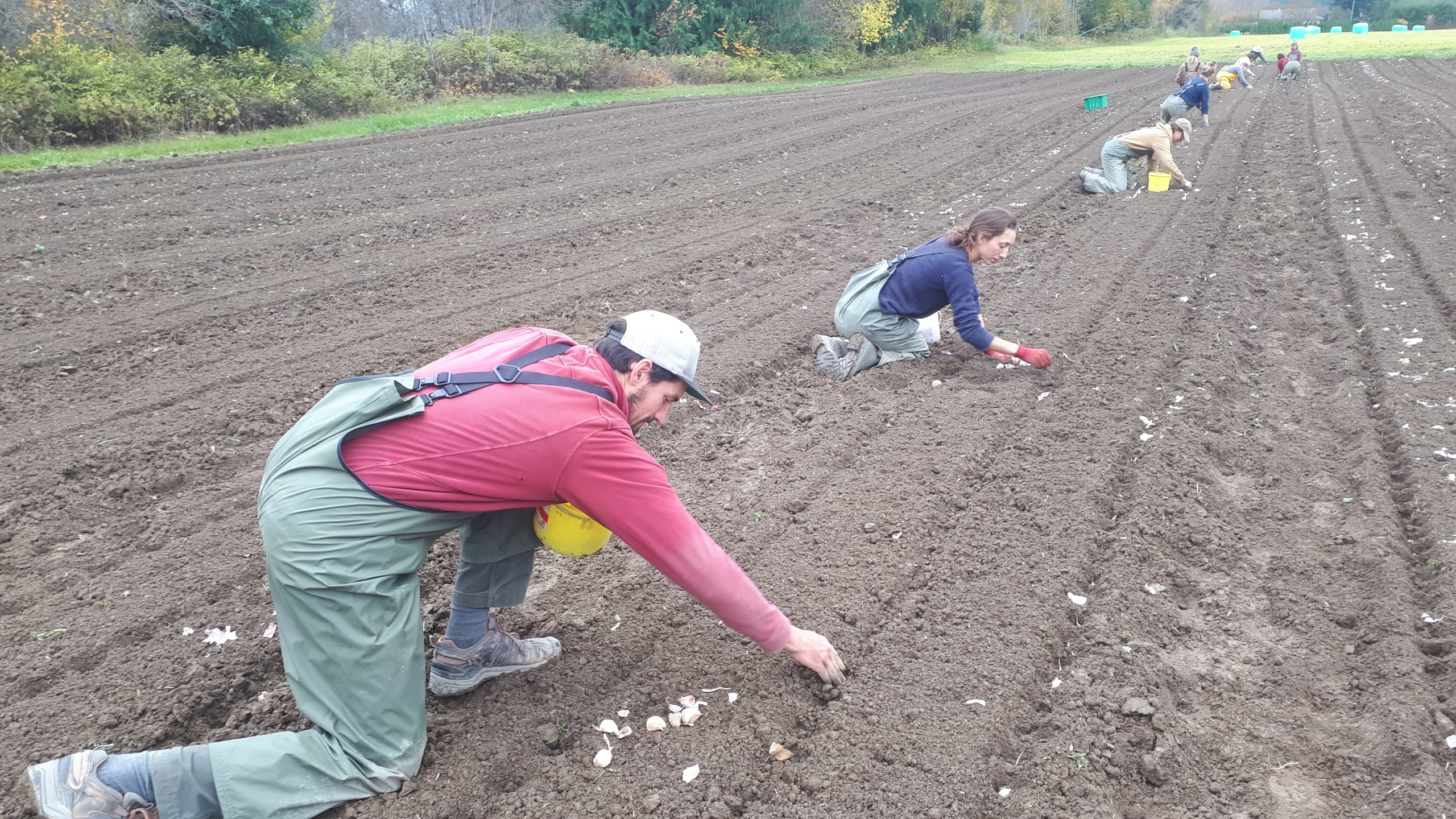 The farm lies on a beautiful 20-acre slice of fertile land in unceded Secwepemc territory, along the Shuswap River. Wild Flight Farm was named in reverence for the river and the numerous migrating bird species that make a home there. It is from that deep place of appreciation and respect for their environment that Hermann and Louise have been dedicated stewards of the land they farm.
What began as Louise's quaint notion of a small-scale farm, run by the two of them, transformed when Hermann really sank his teeth into the idea of making a concerted effort to feed their community. Where Louise imagined "small is beautiful," Hermann saw "expand to meet demand," and the fusion of these two ideologies is the essence of Wild Flight Farm.
Through thoughtful growth of their business, customers from Kelowna to Revelstoke have been nourished, inspired, and gathered by the dedication to—and consistency of—the produce that Wild Flight Farm has brought to their lives and wider communities.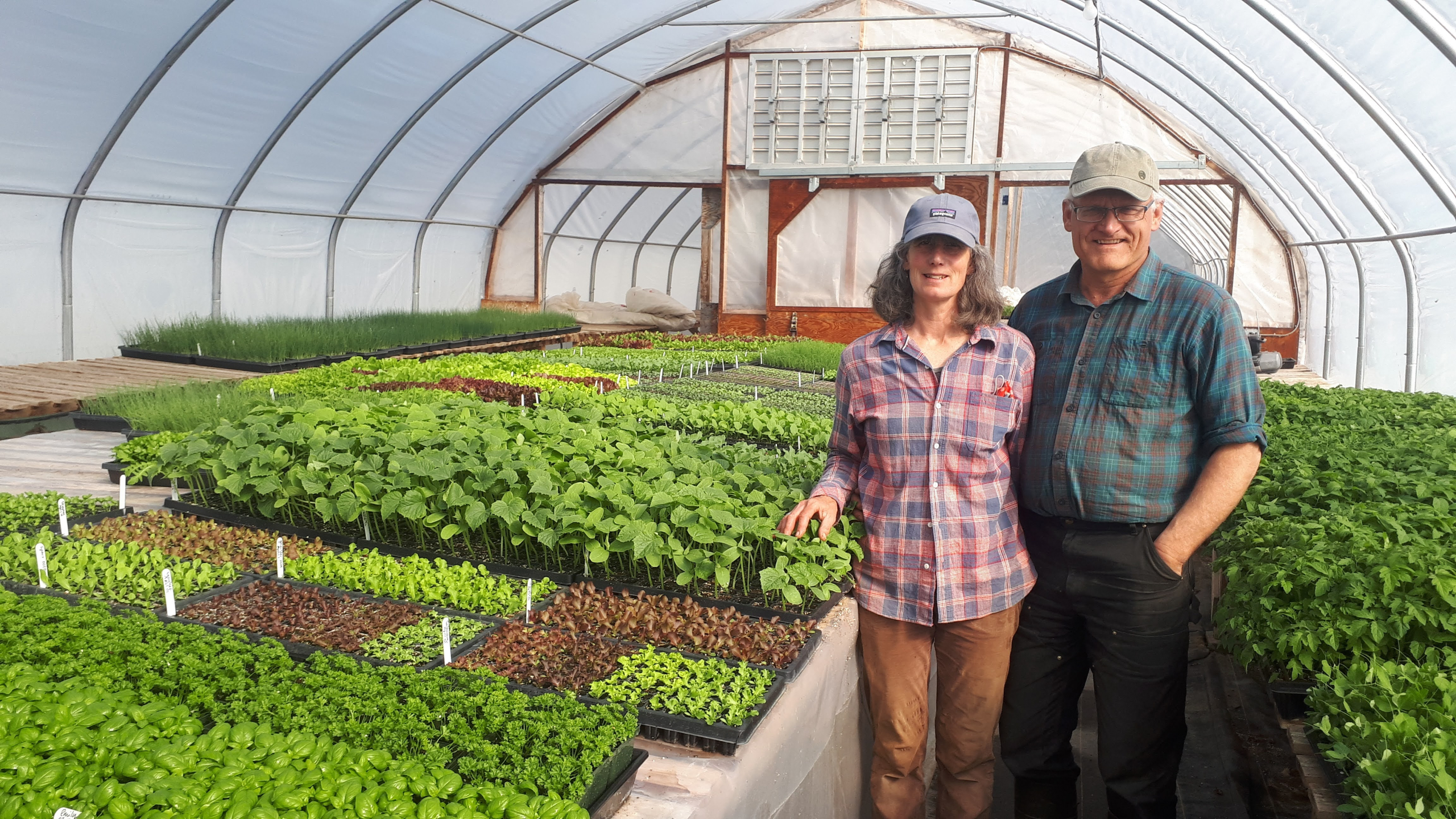 One thing that has really set the farm apart from other local growers is that they grow, store, and sell produce year-round. "Deciding to expand our infrastructure—building a bigger packing shed and additional cooler rooms—was really driven by customer demand," reflects Hermann. The "big build" at the farm took place about 10 years into the growth of their business and was an integral step in the evolution of the farm, as it secured a supply of organic produce throughout the winter months for customers.
Direct to consumer sales, especially farmers markets, have been central to the business model of Wild Flight. In the early years they tried various markets throughout the region but eventually focused on serving two communities: Salmon Arm and Revelstoke. Their delivery methods have evolved over time and they have experimented with a Community Support Agriculture (CSA) program, in addition to attending both summer and winter markets. Over the years, "we've actually been all over Revelstoke," recalls Hermann. "We've parked at people's houses, industrial sites, the community centre, and centennial park."
Continuous communication has been a real strength of Wild Flight over the years. Currently, over 2,300 people receive a weekly e-news publication, drawing recipients into the on-farm experience through bright photos and the anticipated 'featured vegetable,' the in-season veggie of the moment. The newsletter originated as a humble, word-processed piece of paper, authored and printed by Louise during the farm's second year. It was a way to stay connected to their customers and offer recipe suggestions for some of the more obscure vegetables found in their CSA box.
Through its evolution, the newsletter has served many purposes: a means to convey moment to moment farm struggles and excitement and a platform for political engagement, community announcements, general farmers market news, but also a way to create a network responsive to the unexpected changes that occur between field and market. Its efficacy has been tested on several occasions, and regardless of delivery delays, weather issues, or COVID-related challenges, the newsletter has demonstrated a consistent and rapid ability to reach farm customers when plans change.
This attentive and thoughtful way of aligning with customers is also echoed in how Hermann and Louise connect with their employees. I worked at the farm over four non-consecutive years in a variety of roles. There were two constant threads woven into all my experiences of working with them: the authentic and genuine care for their employees, and their keen desire to share with, and support, interested young farmers.
The simple act of sitting with their employees at lunch each day spoke volumes to me; we were all working together to achieve the same goals and our efforts as employees were respected and valued. Their appreciation was also undoubtedly clear on Fridays when Louise would create an extraordinary dessert for us to share. Definitely a weekly highlight!
Both Hermann and Louise were always available to chat about any and all things farming—or life—and on several occasions the crew arranged to have post-workday Q&A sessions, where we could pepper them with our extensive farming queries. To this day, they make me feel like there is never a question too silly or a moment too busy to reach out.
Whether nurturing aspiring farmers or building relationships with existing farmers, Wild Flight has been integral in maintaining a strong farmer network in the region. At the very onset of their farm business, Hermann and Louise were warmly welcomed into the realm of organic growing by Rob and Kathryn Hettler of Pilgrims' Produce. They generously offered insights and experience and even gifted Hermann and Louise their first hoop house!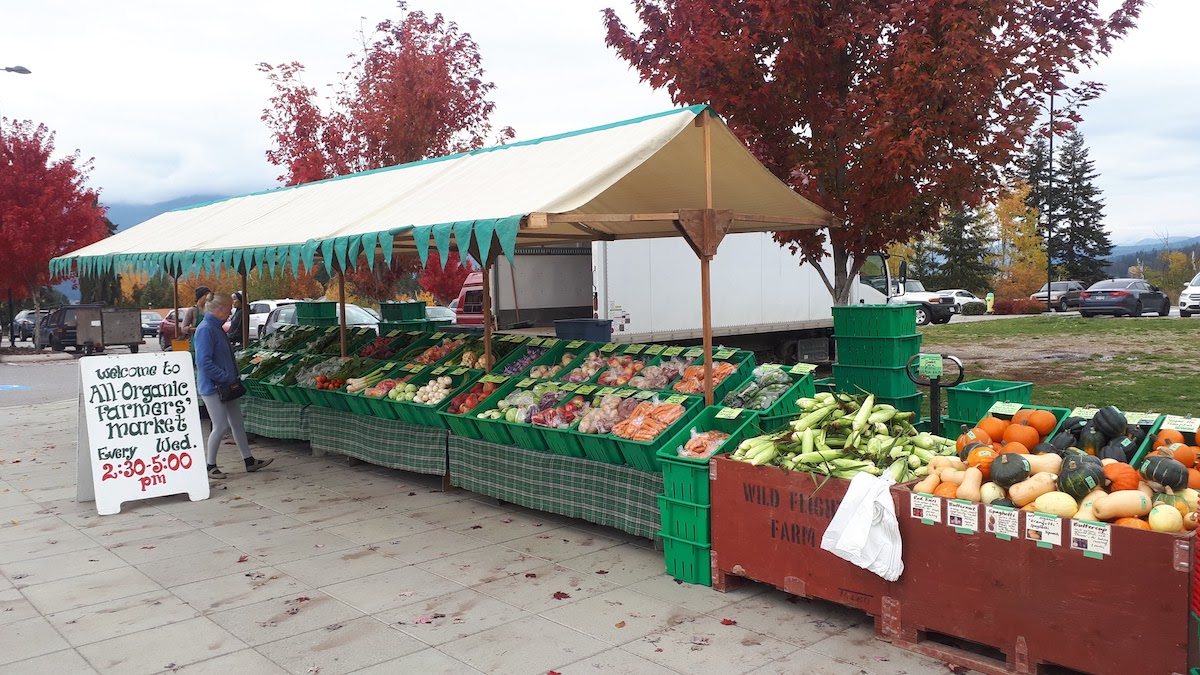 This sentiment of reciprocity has remained a top priority as Wild Flight has grown over the years, whether through co-marketing, exchanging insights and info, coordinating with other growers to share shipping to Urban Harvest or Farmbound, or joining forces to save costs by splitting a pallet (or more!) worth of goods between several growers.
Nearing the end of their third decade, Wild Flight continues to have the same dedication to providing organic produce to as many folks as possible. Farming still requires them to navigate new challenges with unique and innovative solutions and it appears that traversing their next steps of farm succession will be no different. "Our hope is that the farm will continue in a similar direction," says Hermann when asked about their idea of Wild Flight in the future. But, Louise adds, "our kids definitely don't want to farm."
At the edge of one of the fields, behind the alley of hoop houses stands a proud new house, ready for its first occupants. "Building it is definitely a gamble," Hermann shares, but they recognize that having on-farm housing is a necessity. The intention with the build is that the house will attract potential successors, and the entering farmers will have a comfortable place to live with the space to raise a family, if they chose to. With the price of land increasing at such an alarming rate, it remains one of the largest barriers for aspiring farmers, not to mention the widespread trouble accessing affordable housing. (1, 2)
Several years ago, The Bruns' decided to incorporate Wild Flight Farm, but keep the land and infrastructure that the farm uses under their private ownership. "The idea is that because the farm doesn't actually own any of the land itself, it is more affordable for someone to buy into the business," explains Hermann. "The farm would continue to operate, they would make their salary and then be able to use the profit, or some of the profit, to invest back into further ownership of the business, while continuing to lease the land and buildings."
Looking forward, Louise and Hermann see exciting potential. They envision a sense of gusto brought to the farm by folks who, as Louise imagines, "can use the infrastructure to make it their own."
wildflightfarm.ca
---
Brianne Fester is grateful to have been involved in organic growing in various capacities since taking a job with Wild Flight Farm in 2013. Brianne is passionate about all things food and is particularly interested in how we can work to create a more just and equitable food system.
Feature image: Bringing in the harvest. Credit: Wild Flight Farm.
References:
Cheung, C. (April 20, 2021). To Ease Housing Crisis, BC is Largely looking to Developers as Partners. The Tyee. thetyee.ca/News/2021/04/20/Housing-Crisis-Developers-Partners/
Fawcett-Atkinson, M. (August 12, 2020). Young BC Farmers Can't Afford Farmland. Canada's National Observer. nationalobserver.com/2020/08/12/news/young-bc-farmers-cant-afford-farmland