Certification is Helping Define Best Practices
Travis Forstbauer
This article first appeared in Country Life in BC and is reprinted here with gratitude.
Soil health is the foundation of any healthy organic farm. While modern agriculture has primarily focused on nitrogen, phosphorus, and potassium, soil health from an organic perspective focuses on the health and diversity of microscopic and macroscopic life in the soil.
The foundation of all life is carbon, so on an organic farm, soil health can often be directly related to soil organic matter (soil carbon). So, it is with cautious optimism that the BC Association for Regenerative Agriculture (BCARA) welcomes the renewed focus on regenerative agriculture.
Use of the term "regenerative agriculture" has exploded over the past few years. However, this is not a new philosophy. In North America, Indigenous peoples had been practicing forms of regenerative agriculture for thousands of years before the Europeans came and settled. In more recent times, during the early 20th century after the industrialization of agriculture, European farmers were noticing significant decreasing crop yields. Rudolf Steiner attributed this in part to depleted soil health and gave instruction that laid the foundation for biodynamic agriculture, a regenerative system of agriculture dedicated to building soil life.
Then through the mid to late 20th century, pioneers like J.I. Rodale, Lady Balfour, Robert Rodale, and the lesser-known Ehrenfried Pfeiffer championed organic agriculture practices that, at their heart, were regenerative. Through the 1980s and 1990s this movement blossomed to what is known as organic agriculture.
In 1986, as part of the early organic agriculture movement, a group of farmers in the Fraser Valley organized themselves to create the BCARA. An early definition of regenerative agriculture that they settled on was:
BCARA went on to become a leader in the early organic movement in BC, where, at the grassroots of organic agriculture, was the belief that every organic farm should strive to be regenerative in its practices. Soil health expressed as life in the soil, has always been the foundation of organic agriculture.
"Regenerative Agriculture is both a philosophy and a farm management system. Philosophically, it says that there is within people, plants, animals and the world itself a way of recovery that both comes from within and carries the recovery process beyond previous levels of well-being. Robert Rodale says, "Regeneration begins with the realization that the natural world around us is continually trying to get better and better.
Over the past 30 years much has changed in both organic and conventional agriculture and over the past few years the term "regenerative agriculture" has been loosely used for a variety of farming systems. There is a general understanding that a regenerative farming system captures carbon and helps to mitigate climate change. There are many organizations that have jumped onto this wave of regenerative agriculture. But the term "regenerative agriculture" is not regulated like the term organic. There is no governing body overseeing the use of this term and as a result it has been loosely used and often misused and this is of concern to BCARA."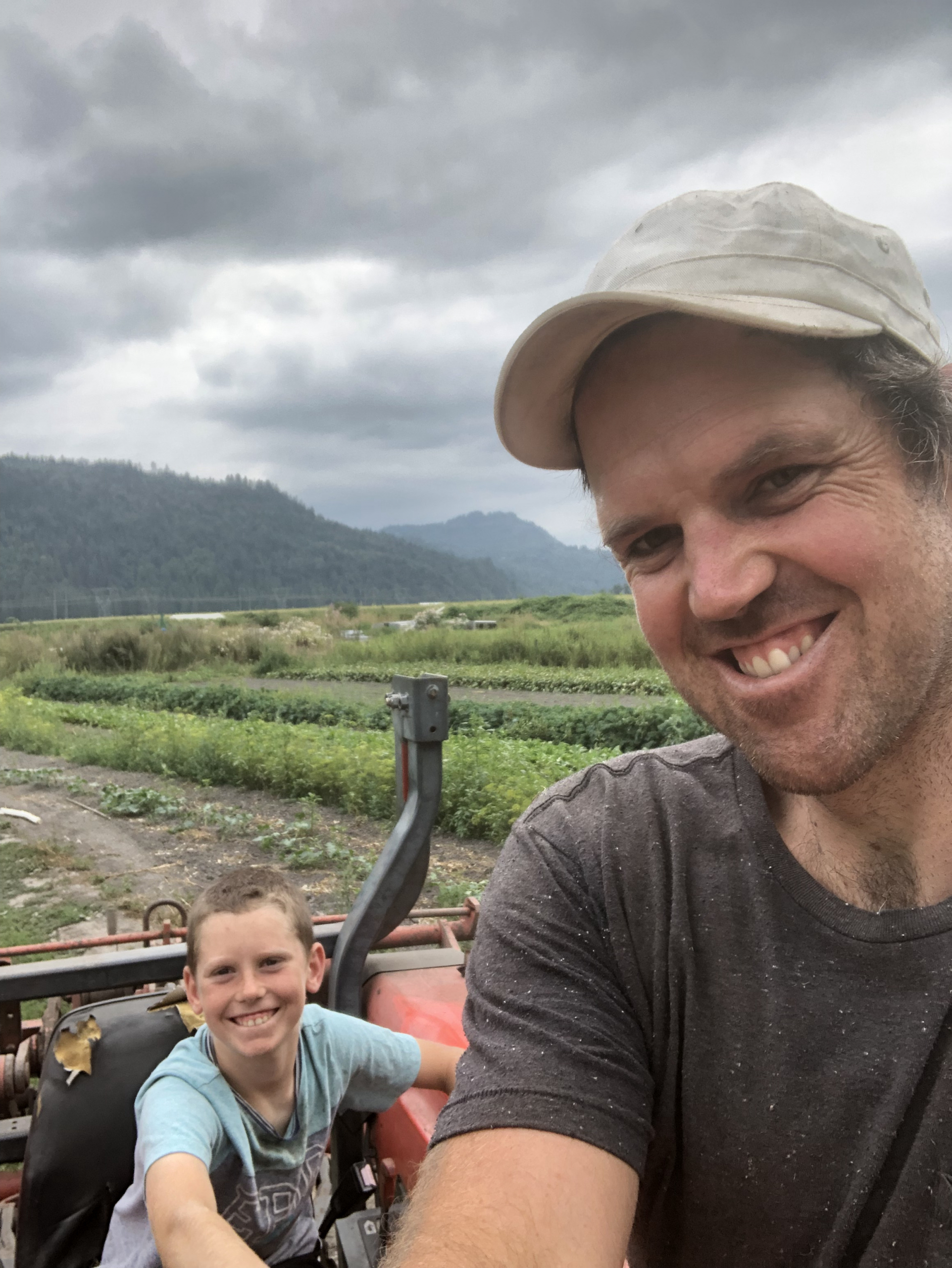 There are some that believe that no-till agriculture systems are more regenerative than organic systems that perform some tillage. However, we fundamentally disagree with this assertion. Many of these no-till systems still rely on toxic herbicides such as glyphosate, and while we applaud agriculture producers' actions to build soil life, capture carbon, and mitigate climate change, BCARA holds the position that any form of agriculture with the goal to be regenerative should have a foundation of organic practices.
BCARA believes that the healthiest, cleanest food is produced in a regenerative agricultural system, without the use of herbicides, pesticides, and agrochemicals. Regenerative agriculture strives to be a closed loop system whereas the production of these agrochemicals is CO2 intensive and are often produced long distances from the farm.
In the US, a regenerative agriculture standard has been developed called Regenerative Organic Certification (ROC). This certification requires the operation to be certified organic to be designated as regenerative. Certification is on a tiered system of bronze, silver, and gold. The farm is granted certification based on how many regenerative practices they use on their farm as defined in the ROC standard. It is our view that this is the gold standard of regenerative certification.
Currently, there are countless researchers, soil advocates, and organizations doing the much-needed work to shift the collective focus of agriculture towards regenerative practices. These people and organizations include Gabe Brown, Elaine Ingham, Matt Powers, Zach Bush of Farmers Footprint, Maria Rodale and the Rodale Institute, Ryland Engelhart and Finnian Makepeace from the film Kiss the Ground, the Regenerative Organic Alliance, the Canadian Organic Trade Association, and the list goes on and on.
Much like organic agriculture has evolved, the understanding of regenerative agriculture will continue to evolve and BCARA looks forward to being a leading voice for regenerative agriculture in BC.
---
Travis Forstbauer is president of BCARA, an organic certification body that certifies farms and businesses across the province of BC. He farms alongside his wife and children, his father Hans, his brother Niklaus and his family, sister Rosanna and many other family members throughout the growing season. Together they steward Forstbauer Farm, a multigenerational, certified organic, biodynamic farm located in Chilliwack.
Feature image: Cows in field. Credit: Forstbauer Farm