Arzeena Hamir
My husband Neil and I have been growing organic food for our community in the Comox Valley for nine seasons now. As a farmer, an agronomist, a food security activist, and a mother, ensuring the safety of our planet is really close to my heart. I have always farmed with the goal of giving back to the land and to my community, which has embraced our family farm and supported us in so many ways. This support led me to run for election in local government in 2018 and since then, I have been sitting as the Director of the Comox Valley Regional District. I love being able to advocate for local policies that will ensure the health and prosperity of our community.
I saw what I was able to achieve locally through my political involvement, and recognized the benefits it brought to my work as a farmer. In an effort to grow this impact, I sought out opportunities to reach the wider agricultural sector.
That's when I found Farmers for Climate Solutions (FCS) and decided to get involved. FCS is a national coalition of farmers and farmer-supporters who believe that agriculture must be part of the solution to climate change. FCS currently represents over 20,000 farmers and ranchers across Canada, reflecting the vibrant diversity of the agricultural sector in terms of farm size, types of production, and farmers themselves.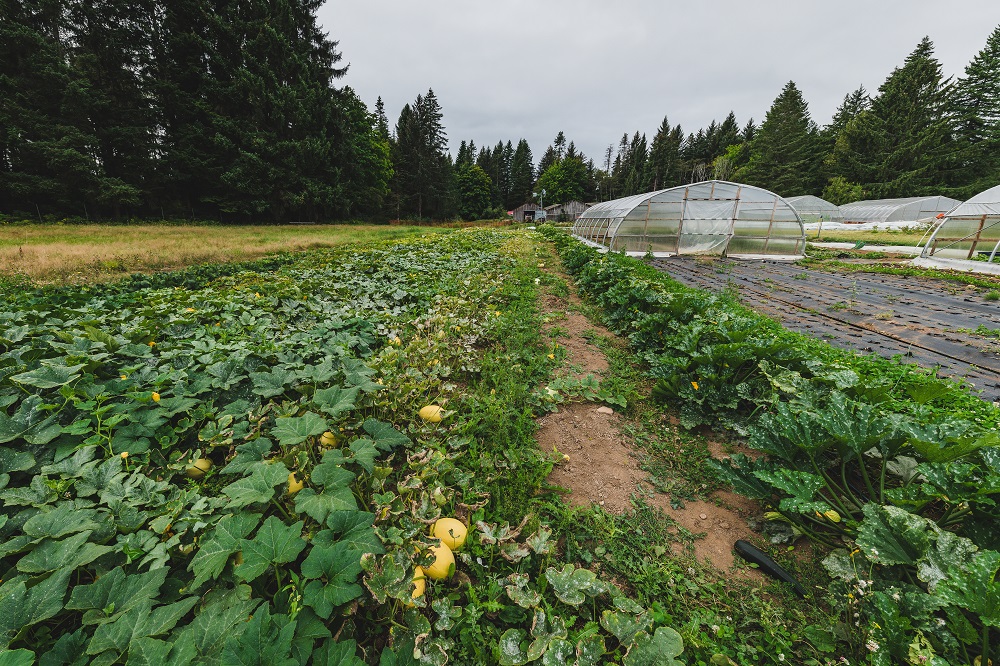 In just one year of operation, FCS has garnered some serious attention from the media and policy-makers. The coalition was launched in February 2020, marking Canada's Agriculture Day. Shortly after their exciting launch, the COVID-19 pandemic hit. Through the tragedy of countless losses across communities, I felt the weight of this pandemic on top of the growing threat of climate change to my livelihood as a farmer. FCS felt this too, and as our government planned to "build back better," they asked: what does this mean for agriculture?
A smart, forward-thinking and lasting COVID-19 recovery should prioritize climate resilience on our farms. I was thrilled to see a report recommending five priorities to achieve this, from encouraging the energy transition on farms, providing incentives for climate-friendly practices, investing in farmer-to-farmer training, and supporting new and young farmers. These were priorities that I felt proud to develop even more as I formally joined the efforts of the coalition.
In September 2020, after an unprecedented commitment from the Speech to the Throne to farmers and ranchers, the Canadian government recognized us as key partners in the fight against climate change and pledged to support our efforts to reduce emissions and build resilience. In order to ensure that the government would deliver on their commitment, FCS set out to recruit a farmer-led task force of experts to propose short-term actions that would deliver long-term lasting benefits in emissions reductions and economic well-being. The short list of recommendations was to be advanced for Budget 2021 to inform the next agricultural policy framework in 2023.
I initially signed up as an interested farmer and attended a focus group, and then ultimately took on the role of task force co-chair, where I shared leadership with fellow farmer Ian McCreary, who farms grain and livestock in Saskatchewan. Together, we led a team of members with expertise in agricultural economy, greenhouse gas (GHG) modeling, and domestic and international agricultural policy analysis, to advance six high-impact programs that would reduce on-farm GHG emissions and build resilience. I am also working with fellow British Columbian and long-time friend, Abra Brynne, on an equity analysis of these recommendations to ensure that we do not leave out BIPOC, 2SLGBTQ+, and other equity-seeking farmers, and that supports are accessible to all farmers.
Being part of this team was incredible. Meeting farmers from across Canada who were equally committed to climate action was so heartening. Having access to Canada's best GHG modellers and scientists was fascinating and I was able to expose myself to a whole area of lobbying and policy development at a federal level that I had never been involved in. I got to meet the federal Minister of Agriculture, Marie-Claude Bibeau! Ultimately, with this team, we were able to make the case for how agriculture could really be a powerhouse for climate mitigation and that message was heard.
Over the course of several months, FCS held over 20 meetings to engage with representatives from the federal government to promote and refine our budget recommendations. We often heard positive and hopeful feedback from these meetings, commending the evidence-based and detailed research our group had brought forward. Essentially, we were championing climate-friendly farming practices that have been proven to reduce emissions and are cost-effective for both farmers and the government.
We launched our budget recommendation report on February 23rd 2021, once again marking Canada's Agriculture Day with a national media tour to help amplify the voices of farmers who are already implementing these practices on their farms and who have seen the benefits on their business and the environment. This really reinforced the most important potential that I see for Farmers for Climate Solutions: we are shifting the viewpoint that farmers are solely the victims of climate change, and recognizing that we are also valuable actors in moving the agriculture sector forward.
Our team waited for the announcement of the budget with bated breath. In a year where the government had to prioritize funding immense gaps left by the pandemic, we were hoping that a climate-focused budget for agriculture would also make the cut, and it did. This historic win for our sector showed us that the government is committing to supporting farmers directly to scale up adoption of climate-friendly farming. Because we can no longer wait to act. With only nine growing seasons left to achieve Canada's target under the 2030 Paris Agreement, and our agricultural emissions projected to rise, we urgently needed this kind of meaningful support to lead the climate transition in our sector.
Farmers are already leading the way, and have shown their innovation and resilience in the face of many challenges, and climate change is no different. There is a growing movement of farmers who are inspiring change, from fence post to fence post, and now we have concrete support to ensure we can harness the positive impact that our sector can have on the environment. I feel incredibly proud to be part of seeing this change happen across millions of acres of farmland in Canada.
Read more:
farmersforclimatesolutions.ca/recovery-from-covid19
farmersforclimatesolutions.ca/budget-2021-recommendation
farmersforclimatesolutions.ca/news-and-stories/budget-2021-represents-historical-win-for-canadian-agriculture
---
Arzeena Hamir is the owner of Amara Farm in Courtenay, BC and a Director of the Comox Valley Regional District.
Feature image: Arzeena Hamir harvesting beans in the field at Amara Farm. Credit: Michaela Parks.