How one woman's journey to worm-free fruit led to the birth of a new business
Marilyn Roberts
In the early 1900s, Kaslo was a major fruit producer in British Columbia, sending boxes of huge cherries as far away as England. Hence, there are many old overgrown orchards in the area. When I bought a place there in 1990, I inherited several old apple trees and even a couple of cherries, which had been planted by a previous owner. They had beautiful fruit, but every one was wormy. I did a little research and discovered cherries had to be sprayed over and over to kill the cherry flies that emerge from under the trees all summer long.
Not too keen on poisoning my backyard every year, I decided to try alternative methods. My first try was to pick all the young cherries before the worms had a chance to mature. The next year, I still had worms. I decided that if the flies emerged from under my trees, I could tarp the ground to keep them there. When that didn't work, I reasoned that the flies must have seen the light at the edge of the tarp and crawled to it. The next year, I tried clear plastic; but still I had wormy fruit. Apparently, the critters were flying from other trees in the area or being blown in by the wind.
That was when I got mad—and decided I was going to finally get some good cherries without spraying. I cut up some old nylons and made bags to cover a few bunches of fruit—that was the first year I was able to harvest some cherries without worms.
The next year, I bought some old curtain material at the thrift shop and fashioned larger bags to cover whole branches. I was worried that the material might damage the leaves, but it worked perfectly, and I had a lot more good cherries. The foliage inside the bags was even in better shape than the rest of the uncovered tree.
By then I had good Internet service so I went looking for netting to cover the whole tree. It was expensive! I finally found a store in the US that had brand new bulk netting cheaper than anywhere else, and after doing some calculations I ordered almost $600 worth to cover my 16-foot tree.
I made a pattern, but the weather was rainy that spring so I had to sew it inside on my old treadle machine. Imagine netting to cover a room almost 16 feet square and high, all white with no markings, piled up on a living room floor. It was a challenge, but when I finished and we took the whole pile outside, it was a bag that fit perfectly over the tree. I was astounded that it actually was the right size and shape. That was the first year we got all the fruit with not one worm.
Unfortunately, the material was not UV resistant and started to tear when we took it off. I did some serious searching online looking for better quality, and for a while, if you looked for insect netting online, my post was at the top of the list. I discovered no one in the world seemed to have what I wanted. I couldn't find anyone in North America that made netting; they just bought it from other places and resold it. The samples I received from China, Russia, India etc. all were poor quality, not what I wanted. Finally, one factory sent me good quality netting, but it wasn't UV resistant and the holes were way too big.
When I sent them my standard "thanks, but no thanks" letter, they wrote back to say they were a newer factory and could make anything I wanted. We put our heads together and came up with an amazing fabric, perfect for the purpose. They had to re-tool several times to get it just right.
I got ready to order some and look for people in the area who could sew when they told me that whatever I was doing with it, they could do it cheaper, faster, and better. I sent them a pattern and ordered nine bags of two different sizes plus some bulk material for research. Getting them through customs was a real learning experience.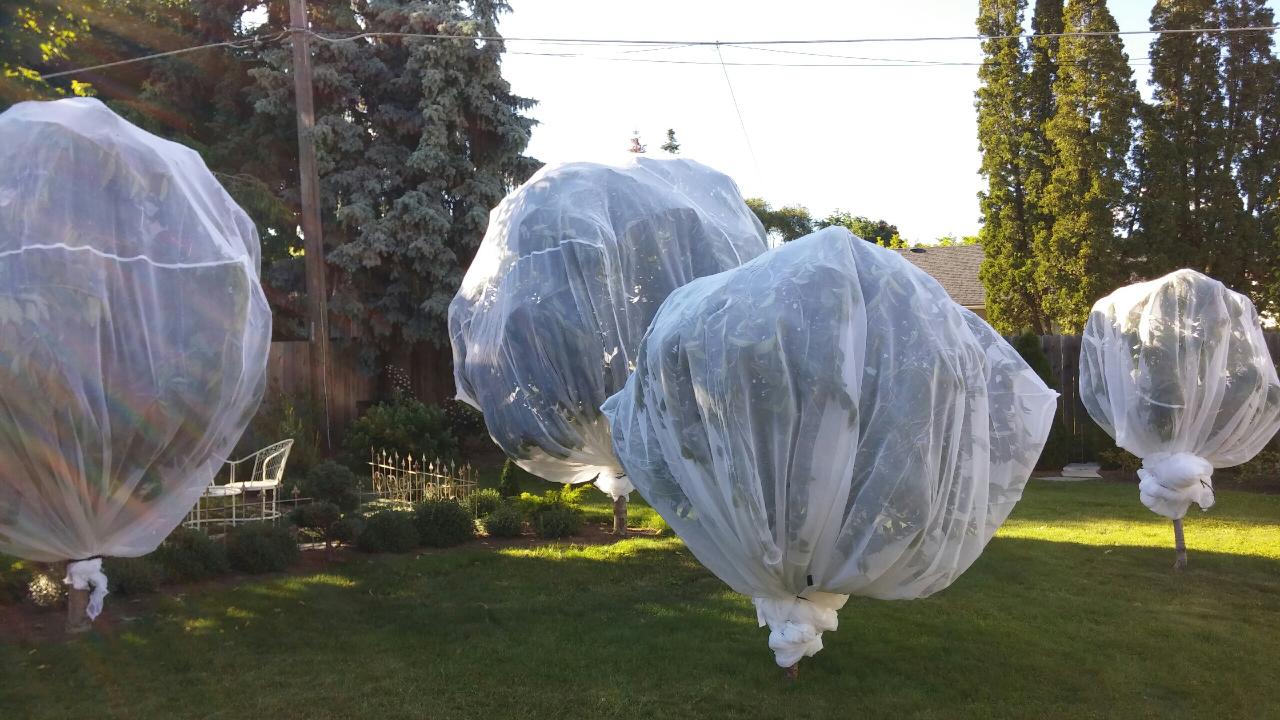 That year I found several people with two cherry trees so I'd have a control tree and sold them the bags at less than my cost in return for a sample from both trees. I also made small bags so I could cover branches on other people's trees for research. I picked and opened hundreds of cherries that year and recorded the number of worms in each one, where it was picked, and whether it was covered or not. Most of the uncovered cherries were wormy, some with several of the bugs, and none of the covered cherries were wormy except for a couple from a tree that had come open around the trunk to allow a fly or two access to the fruit. In other words, it worked spectacularly. My data is available to anyone—just email me for a copy.
About the same time I heard about a man who had lost his cherry orchard to the bank when wasps moved in just before he harvested, and there are other stories about poor harvest because of birds. Luckily, my netting also keeps out those critters.
The next year I ordered 100 completed tree covers in three sizes and started selling them. For the first year or two I was able to wholesale to other stores, but my costs were very high and I was losing money. I decided to just sell to anyone at the lowest price that would cover my costs and time.
More and more people started finding me online when they looked for an alternative to poison, and those who used the nets told others, so my business grew. I also added two smaller sizes, bulk material, and netting with larger holes that just kept out wasps and birds; this was good for grapes and other crops unaffected by worms.
Since then, I have been selling covers all over North America, and have even covered whole orchards, one with dwarf trees where I made long, wide strips to cover whole rows. I get the most wonderful reports from people who cover their trees with my netting, and that's the real reason I still make and sell these. I feel it's important to give people an alternative to spraying.
---
Marilyn Roberts lives in Kaslo. She recently retired after 38 years teaching ABE (upgrading for adults in all levels of English, math, biology, chemistry, physics and computers) for Selkirk College, and finds herself busier than ever filling orders for Kootenay Covers.