Josh Brown
…It was a few days ago at around 7 am when the sun peered over Fairview Mountain to kindly balance a rude 40 km/h south wind. It happened while I was neurotically leaning over the hood of my van trying to pick out a slightly different noise in the engine (of all things) hoping to hear something different each time, hoping to disprove Einstein's basic philosophy of insanity. After about 20 minutes, I didn't even know what I was looking for anymore, or if anything was even there in the first place. I'll have to keep an eye on it. At around 8 pm later that day, the sun was falling behind K Mountain, finally offering slight relief from a 30 degree (spring!?) day. The wind soothed new sun burns and the cooling soil felt nice in my hands. It happened when I went to check the water and gopher traps in the apple tree nursery and garlic crop. My new low emitter overhead sprinklers are a head scratcher right now as I try to develop a schedule with the new irrigation system. And after opening up a fallow field for the expansion of the nursery, gopher trapping has been relentless…
This all started with a fallow field, for most of us here. As someone who is still very close to that moment, I can speak to what it's been like to take that leap, and how special it has been to share the experience with likeminded people doing the same thing. I own a small-scale organic tree nursery in Cawston, a village nestled in the Similkameen Valley, and just outside the industrial fortitude of the Okanagan. Over the last 10 years farming for others, as well as investing in my own project here, this community has come alive in a most remarkable way, through compounded experiences with people who share a passion for designing a good life, and by people who quite literally design as a profession. This is an attempt to understand the mechanism by which I and likely many other organic farmers ended up living here and doing something we truly find meaningful, and why we stayed.
Perhaps if we stop and smell the roses a little more, we may be able to break pattern and follow a different path. That this narrative is like a little red thread that weaves its way, inductively, moment to moment, rose to rose, through disjointed chaos, and that we can surprise ourselves with how far we can actually go. There are moments we cherish, whose substantive merit eludes us less that moment in time when we stopped to notice it. But I'm beginning to think those moments do not drift far. The first time opening up a piece of land like a blank canvas and feeling liberated by it. An evening with close friends whose intimacy is built on innumerable shared experiences over years, and feeling at home. Trying to erect multiple freestanding cold frame tunnels in the middle of a field in the windiest place on earth, and through constant repair and correction realizing how passionate and focused you are.
These moments and their respective rewards are fleeting, though they help us refine exactly what we are seeking and what feeds us, and over time they define and become us. I'm beginning to think that we don't actually make many long winded choices—you know, the big ones: where to live, who to love, who we are. Rather, if we slightly untether ourselves from those plans and expectations that we can gear toward so eagerly, and give ourselves the freedom to take notice to the moments we are in from time to time, letting them inspire us to deviate course a little, we may find ourselves doing something we truly find meaningful. And that is how I would describe the process of somehow starting out in Toronto 10 years ago, running a scooter business and living downtown, to now finding myself farming in the Similkameen.
This is not just my story. I live in a community whose members' stories have grown, and continue to grow, unrestrained by fear of discomfort or by doing things differently. This is a sentiment I feel often, and is confirmed by the reaction I get from people who come here and experience the work in the fields, and who may have had the opportunity to join us at one of our potlucks, filled with fresh ingredients cooked by the local farmers whose hard work that day grew them.
There is something that happens when all the farmers get together here, where friendship, profession, and community are indistinguishable. Sometimes I feel that we have replaced a few of our older patterns, some of which did not feel organic, with others that do—for example, the nature of the work/life balance here, as well as the nature of the work itself.
…It was a few days ago at around 2 pm, around the time when the heat of the day can make you irritable, that I needed to borrow a T-post pounder to build a deer fence for the nursery. The heat we have been getting so early in the year had pushed the buds from my newly grafted trees a lot quicker than I was expecting, and so I really needed to build that fence before all the new growth was a fawn's snack. Emilie Thoueille, who runs an extraordinary small scale organic market garden down the road from me, had one so I stopped in to pick it up. She invited me in for a coffee in the shade of her tiny home container conversion that she built herself. My roommate, David Arthur, who also runs a small organic market garden on a shared lease with me, was over helping build a cooler out of another converted container, which they will be sharing to store their veggies. Our mutual neighbours across the road, Paul and Lauren, who have been unbelievably helpful over the years to all three of us, stopped in to say hi as well. Community is quite literally woven into the fabric of our lives and careers here, and I believe we farm to feed it. The deer fence could wait 15 minutes, because this was a special moment in the shade…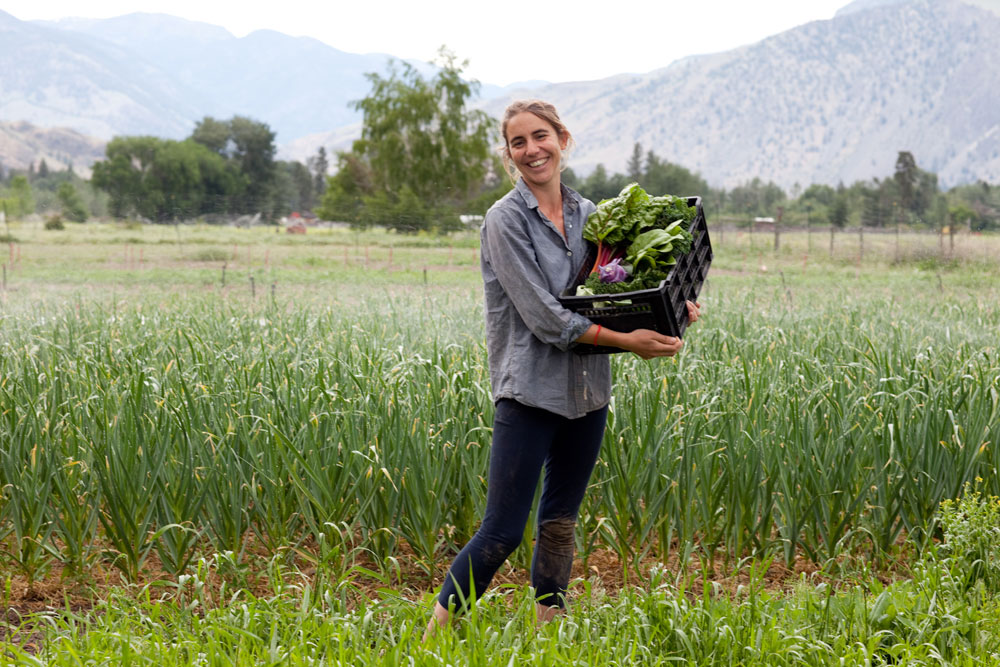 Life here really is quite unbelievable, and my goal and that of so many other farmers I know is really just to be able to keep doing this. I recall a conversation I was recently having with Corey Brown from Blackbird Organics, a friend and mentor, about this valley and what makes life and farming in this small town so unique. He was describing how "we are essentially a community of entrepreneurs."
And yet our homes and communities are a little more entangled into the mix of business and pleasure, so it is all being designed to work harmoniously. This is where the work/life balance disintegrates, when your work is your home as well, and your local economy is also your community.
"It returns to something that actually feels more comfortable and natural, yet needs to be relearned," added Melissa Marr at Vialo Orchards, owner of one of the oldest organic orchards in the area. That level of interdependence, ownership, and accountability is pervasive, and it shows in the quality of the product and lifestyle experienced here.
In some ways I feel that what we are doing here in Cawston builds on an experience as old as time. That from rose to rose, moment to moment, we have come to find ourselves farming here. Though as off the beaten path as it has felt for some of us, it has in many ways reconnected us to a personal and social archetype, a self and a community, whose fire has been burning for a long time, and which feels more honest, organic, and sustainable.
I still see it in the passion and pride held by those who found themselves in a similar moment to the one I'm experiencing years ago, in the generation before us. Farmers whose wisdom in both how to farm, and how to be, have been tantamount to our success, and the continuation of this movement, just as we hope to be for those who we will have the privilege of sharing this with in the future. These are farmers whose passion and story are cellared in the true nature of this lifestyle, in both its romance and its hardship. Those who have been here long enough to experience crop successes and failure, the strength to work 12 hours a day in 30 degree heat as well as those who have sustained togetherness, and union in the community, as well as prohibitive injury, fragmentation, and loneliness, the perfect apple year followed by a flooded orchard the next. Someone so in tune with those cycles, that they almost become predictable, thus inhabiting a trust in its continued ability to provide.
As a matter of fact, sometimes I think the hard work and resilience of the organic farmers I know in Cawston would stand to bear that the pain is manageable when compared to the reward, and the rewards are unquestionably rich.
---
Josh Brown owns and operates Joshua's Trees, a certified organic tree fruit nursery in Cawston, BC, where he grows trees for orchardists as well as the retail hobbyist and backyard market. joshuastrees.organics@gmail.com
Photos by Sara Dent | farmlove.org