Shanti Heywood
Protecting my home was just something I had to do. People keep commenting on how brave I was—but I like to think everyone has some grit inside of them somewhere to fight when they have to. My heart goes out to those who have lost their homes and those who are still fighting to save homes.
We bought 256 acres of cleared but poor quality (and consequently, affordable) land out in the middle of nowhere. My husband wanted to live off the grid and I grew up off grid, so it wasn't a huge stretch buying this place. With technology these days we have a lot more creature comforts available off grid than I did as a kid in the '90s.
The only catch was my hubby has a company down in Burnaby so I'm up here by myself 90% of the time learning to do a lot of things I never dreamed I'd be doing. Since the land needed improving and was not fenced we bought some solar powered fencers and step in posts and got to work. With affordable solar fencers, the voltage isn't that much, so you really have to work with the psychology of the animals. If they're not satisfied they will just leave. Solar fencers definitely let you know if your animals are happy in a hurry.
I moved them last year every 24 to 48 hours, and I saw a good deal of improvement. This year we dedicated a lot of time to fencing. I would only move them once per week but it still did what it was supposed to do.
The forage stayed green a lot longer than the ungrazed areas despite extreme drought conditions. Once the fire started I kind of knew we were in a good spot. Some of my friends, bless their hearts, were heavily involved in helping people evacuate livestock. They were quite insistent that I should get my animals out of there, but I refused. They're as much my coworkers as they are livestock and they had as much of a job to do during the fire prep as I did.
I put my cows and horses in the hay field (the only area that had not yet been grazed…lots of fuel growing in peat soil) and started to move the step in posts closer to the forest every time they had finished a section. The fire danced around me for a month and finally made a pretty decisive b-line for me. Once the fire started to come I moved the posts back to the grazed area so they wouldn't burn and set up a second water source in case the first source had fire near it. I moved the animals' loose mineral tub back to where I thought was safest so they knew that was the best area to hang out, and that was that.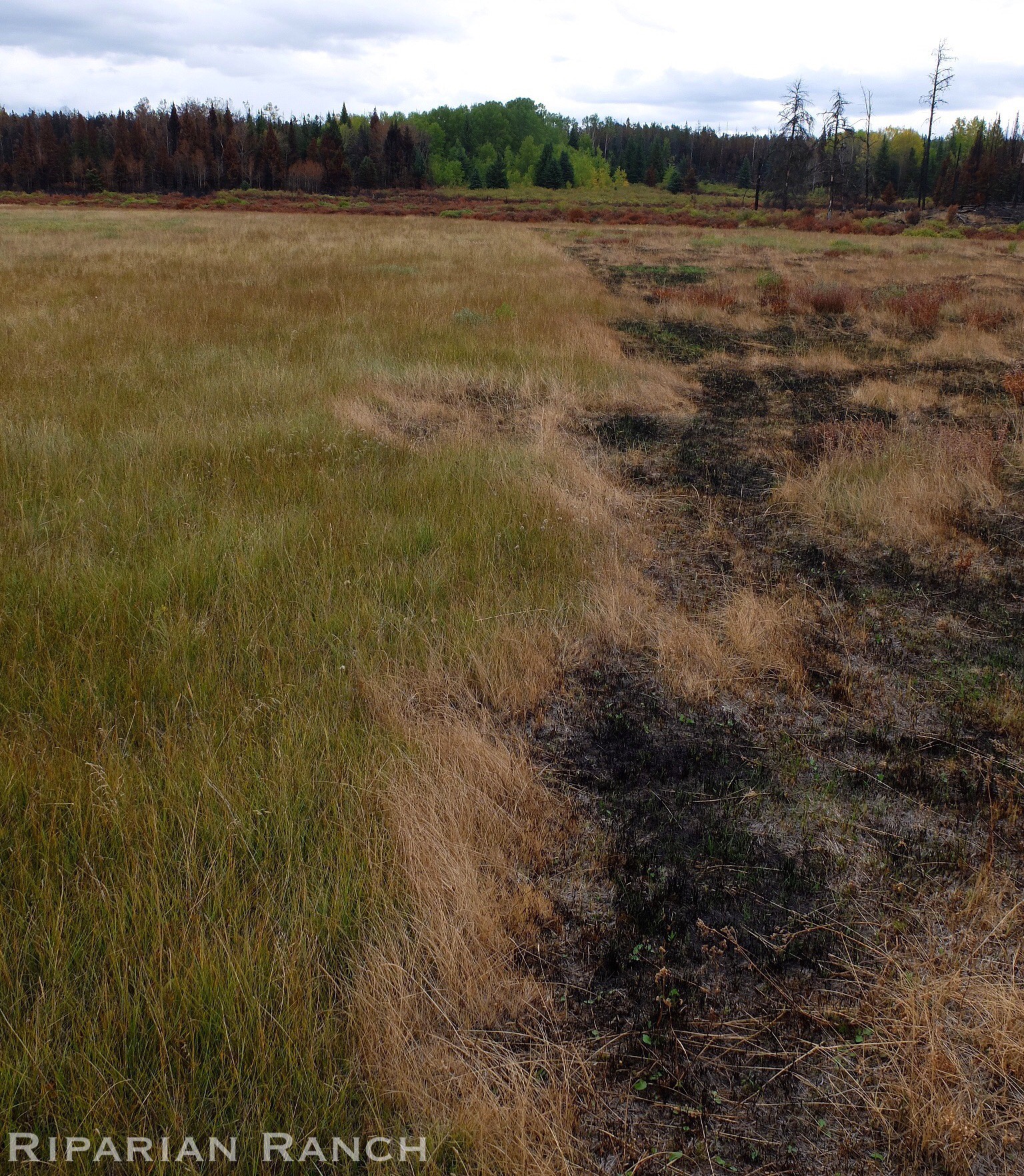 We watched the fire come in on all sides in one wild night. There's no way I can describe the power of this fire so I'll just give a rundown of what happened. August 11—I kind of knew it was the day the fire would come. Five weeks of waiting, watching, and preparing. That morning I got my chores done early and headed inside for a nap. I woke up in the afternoon to roaring fire on three sides and hot—I mean HOT—wind.
My neighbours Becca and Darrel showed up not long after. Darrel was worried about a cabin in the woods, Mikey's cabin, and wanted to go check that the pump was still running. He went one way and Becca and I went the other way to break a dam upstream to let more water in to the creek for Mikey's pump. There we are, two girls sitting in the mud listening to the roar of the fire behind us. Once we started heading back we quickly realized the fire was already almost at my property and became pretty worried about Darrel. He never made it to Mikey's pump because the fire was already in the surrounding forest. We all figured the cabin was a pile of ash.
Another neighbour, Robert, showed up at that point, as did the one and only guy we had ever seen from Quesnel (who is supposed to be managing this fire). He quickly left. There wasn't much we could do. We stood and watched the flames come in on all sides, completely surrounding us and cutting off all exits.
Once the fire had come in close I turned the waterfowl and billy goat loose and went in to the field that the goats and dogs were in. I called them all out of their huts as I was worried the roofs might catch a spark and led them to the sprinklers. They seemed to understand what I was showing them, as they never walked back in to their huts that night. I was not concerned about the cows and horses out in the hay field. We do managed intensive grazing, which proved very effective at stopping the fire in its tracks. I was pretty confident they were completely safe.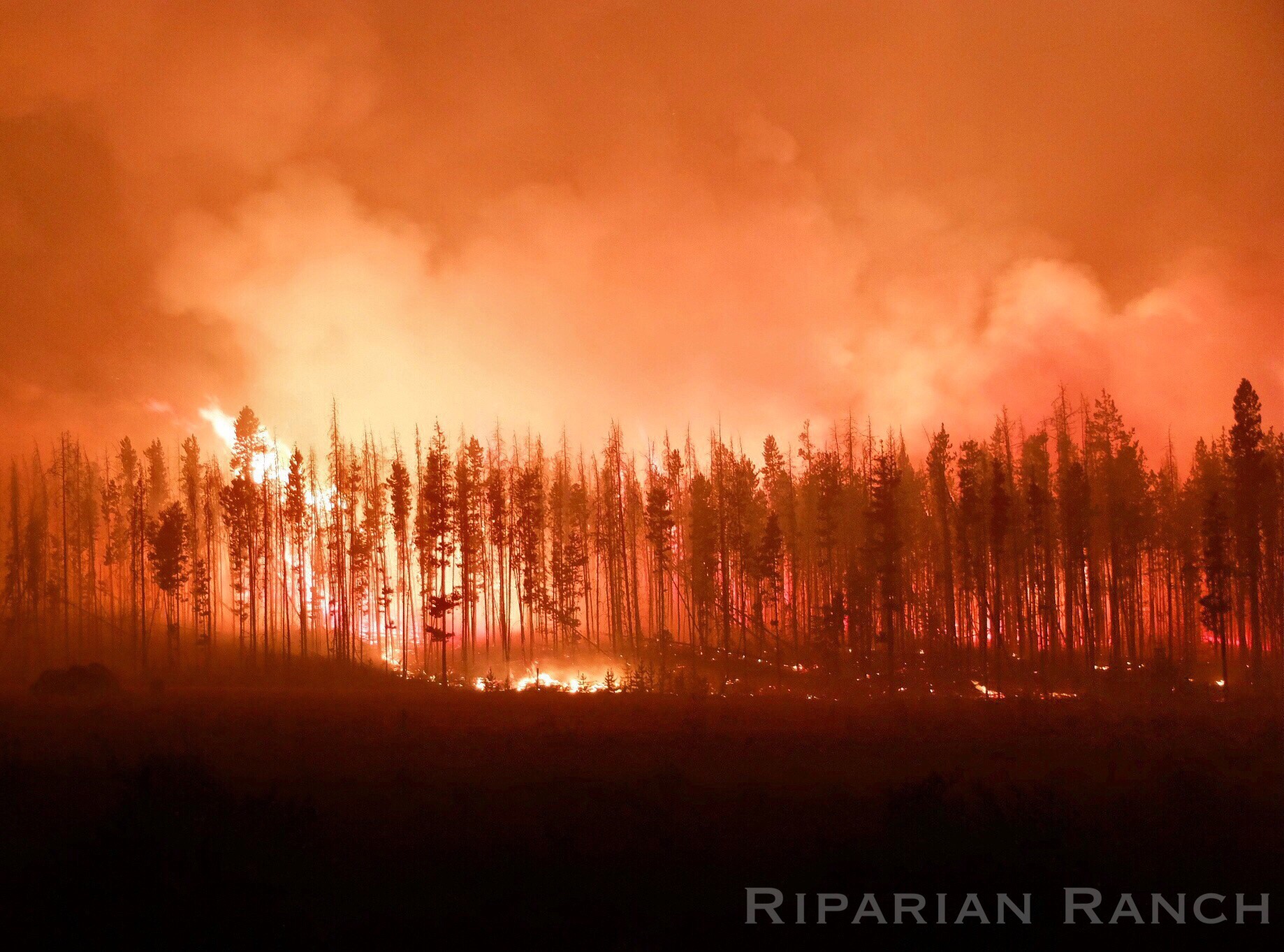 Then the smoke came down on us and for most of the evening we were choking on smoke and couldn't see a thing. We had a couple little hot spots in paddocks and pastures throughout the night but they either burnt themselves out or were put out.
About midnight the fire calmed down on the Northern side and much to our surprise we heard the buzz of Mikey's pump in the distance—the cabin had survived. The water from the dam had finally made its way down to us so we used it to put out a few fires and wet certain areas down. At the end of the night we all stood in awe of what had happened and what was still going on. Robert cut his way through my driveway to get home and we headed to bed. Darrel stayed up to keep watch.
The next day my husband finally was able to make it home and the fire ripped through two of our neighbour's properties (they both made it). We weren't able to be there for either of them but we cut our way through and went to help as soon as we could. Later that evening Robert's wife Mamie said, "Who's even going to believe this? Two people in their mid '60s running around with hoses fighting a wildfire."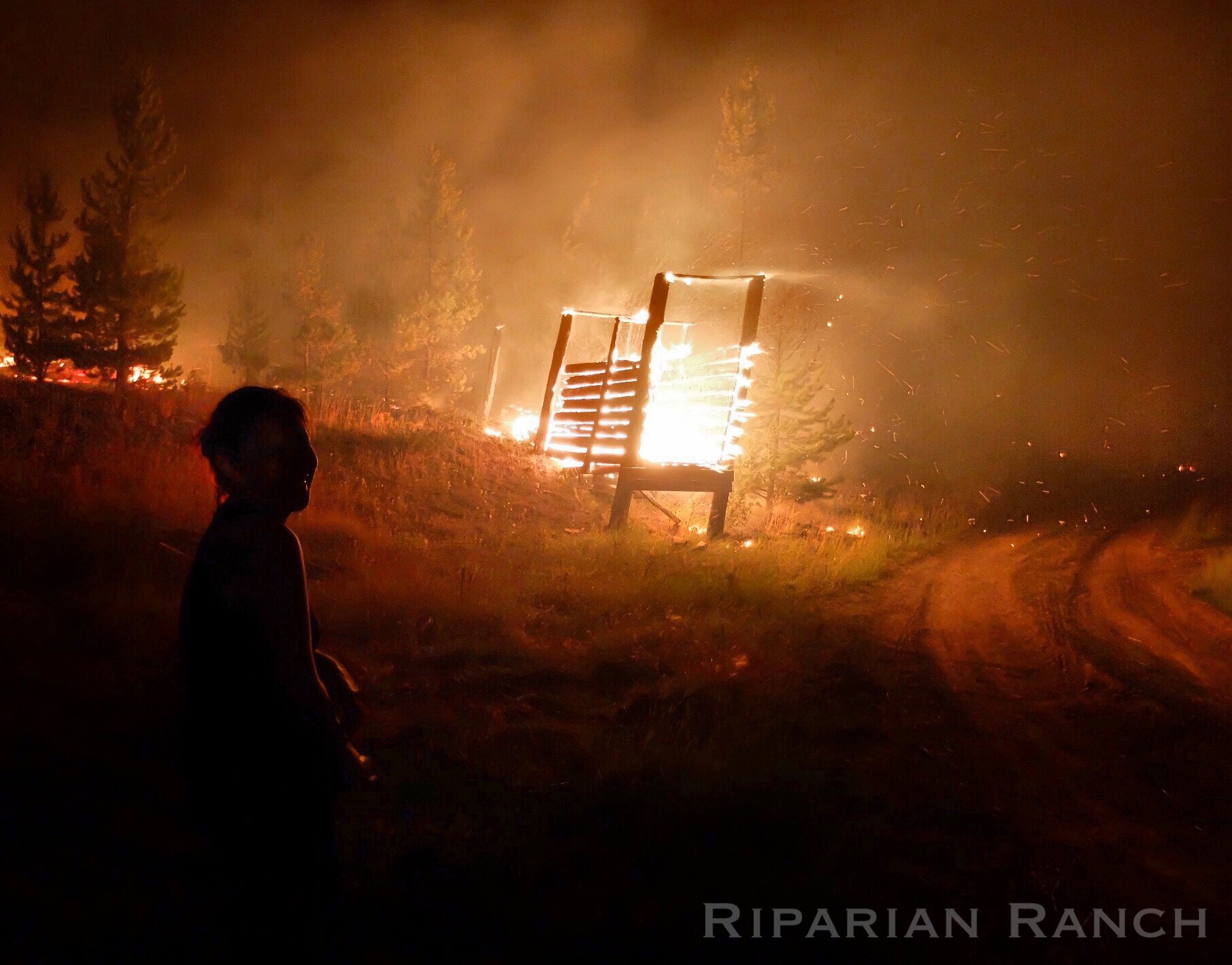 The fire burnt right up to where they had grazed and stopped. It was very hot and burnt pretty much anything in its path including green marshes and willow bushes. In one spot where I had just grazed but didn't move the posts back to the grazed area the fire actually burnt the hot tape but not the posts because the cows had reached under and grazed around them.
Peat soil is quite notorious for burning underground for months…even through the winter…but for whatever reason the field appears to be just fine. My poor neighbour who owns another part of this field about two km away is still battling underground hot spots in his peat soil and he had the fire pass through one day after me. We've been over a few times to help him put out spots and move hay.
We have major wolf problems in the winter so fencing and LGDs (livestock guard dogs) are actually more important than this fire ever was. I shocked the heck out of the structure protection crew when I told them my puppies in training were more important than their hoses and I would NOT move them out of their field. Never a dull moment around here.
None of us are able to get fire insurance due to our remote off the grid locations, so of course we all stayed to fight. We have been spending every day since checking on the properties and putting out little hot spots. It won't be something I will ever forget, nor will this area ever look the same within my lifetime.
In the end, we didn't lose anything to the fire. There's no damage other than a few singed fence posts and of course my canoe I forgot about until we had gone to break the beaver dam when the fire was here. All the prep I did made it a fairly easy experience and the people that stayed with me of course helped immensely. I was never very good at studying for tests in school but this one I feel like I did my homework and was pretty well prepared for.
The fire is still blazing to the East of me. I can see plumes of smoke rising as I type this but for the most part we are safe. It's never a dull moment here but I think it is safe to say this was one of the most exciting.
---
Shanti Heywood manages Riparian Ranch, an off grid ranch in the Chilcotin working towards providing humanely raised meat and livestock in the most natural and peaceful setting possible.
All photos: Riparian Ranch/Shanti Heywood