Naomi Martz
Sometimes the best tool for a job isn't a tool at all
Despite what some may think, farming with horses is not always about wanting to go back to the "good old days". For me, it comes from a pretty extensive list of things that are important to me as a young person starting a farm business: less time spent fixing engines and running power tools, more time listening, less fossil fuel use, more conscious fine-tuning of the work/play/sleep/love/grow balance that sounds great in theory. With all that in mind, choosing to start farming with live horsepower has very much been a decision based in the present.
At this point, I would consider myself to be "barely a beginner" at draft horse work, so if you are looking here for expert advice I strongly suggest seeking out experienced teamsters who are willing to share their craft. Publications by Lynn Miller, Stephen Leslie, and the Small Farmer's Journal can also provide a jumping off point for further resources. But I can share what adding two 2,000 lb coworkers brought to my first year running a farm.
Having completed an apprenticeship with Ice Cap Organics where the Zayacs gave me the inspiration and confidence to start my own vegetable-growing endeavour, I spent the 2015 season at Orchard Hill Farm, a horse-powered CSA farm in south-western Ontario in the hopes of putting to rest my curiosity for draft animal power. While there, somehow the Laings managed to instil me with enough confidence to return home to BC, find some land to lease, and buy a pair of draft horses the following spring.
This season, Four Beat Farm grew produce for a 20 week, 30-member vegetable CSA as well the local farmers' market. I rent a small house and 10 acres of farmable land as part of a larger property, with 4 acres in cultivation at the moment (1.5 in vegetables, 2.5 in cover crop to expand next year's vegetable production), and the remaining 6 acres are used for horse pasture with intentions of haying and diversifying in the future. Currently theoperation is in transition to organic and biodynamic practices are employed as well. There are countless neighbours, family members, and friends who provide infinite moral and practical support, but on paper and in the field Four Beat Farm is currently a one-person, two-horse operation, with a dog who works bear patrol.
Tom and Judy, two Belgian drafts in their mid-teens, were purchased based on their kind demeanour, having done farm work and wagon rides before, and their ability to stand still. If the latter seems silly, imagine being a work crew of one with a tractor that cannot reliably be taken out of gear or turned off when something needs to be tweaked or loaded in the field. Other than the initial ploughing that was hired out in the spring around the time the horses were purchased (ploughing is heavy work and can easily lead to soreness for out of shape horses and a frustrated novice teamster), the vegetable farming has been horse-powered this year.
This has included lots of discing and harrowing to prepare for vegetables and manage cover crop, using a straddle single-row cultivator for weed control (all crops except salad beds and one row of hot crops are direct seeded or transplanted in single rows with 3' between to allow space for the horses to walk), planting and hilling potatoes, spreading compost, and hauling in crates of produce as well as moving other heavy objects, such as bags of soil amendments, around the farm.
While a task like hilling an eighth of an acre of potatoes is not unreasonable to do by hand, establishing horse-powered systems that can be scaled up in the future, not to mention improving my own teamster abilities, was a key priority for this season. Taking the eight minutes to harness and hook up the team rather than doing a repetitive task by hand whenever feasible meant not just a lot of time savings overall, but also that this autumn I felt physically better than ever after a season of farming. This seems like a key component of sustainable agriculture that us youthful small-scale farmers prefer to overlook when handling heavy storage crops in the cold rain.
There are many articles written and discussions to be had about the role of draft horse power on a working, profitable farm. Horses can eat from, work on, and fertilize the fields. Horses are light on the land, and they can be worked in single- or multi-horse hitches depending on the task at hand. With the right knowledge and equipment, horses can also grow and harvest their own hay and grain, and breeding can lead to new engines being born and trained on the farm as the older ones slow down.
I agree with all of these and dare to add a few of my own. For one, farming with horses lends itself well to the pursuit of thrift and of mechanical simplicity. My equipment repertoire currently includes some long-forgotten tractor discs and harrows, a roller-packer, a work sled built in an evening from scrap lumber, a small borrowed trailer, a forecart which has a ball hitch attachment to pull the trailer or discs with horses, and a row cultivator. Other than the forecart and cultivator, which worked out to about $1000 and paid for itself in time savings within about six weeks, the rest of the implements ranged from free to one hundred dollars.
When things break or need restoring sometimes I make time to work on them myself; sometimes I drag them to a neighbour's shop if they can make time to fuss around with my antiques, knowing someone else will do twice the job in half the time and I enjoy visiting with neighbours. Developing the skill set to speak the language of engine repair, not to mention actually repair engines, would not be impossible but would be a big learning curve in comparison. If I were a person who enjoys and excels at running heavy machinery and tinkering with tractors, or if I did not actually like horses, my farm would probably look quite different than it does at the moment.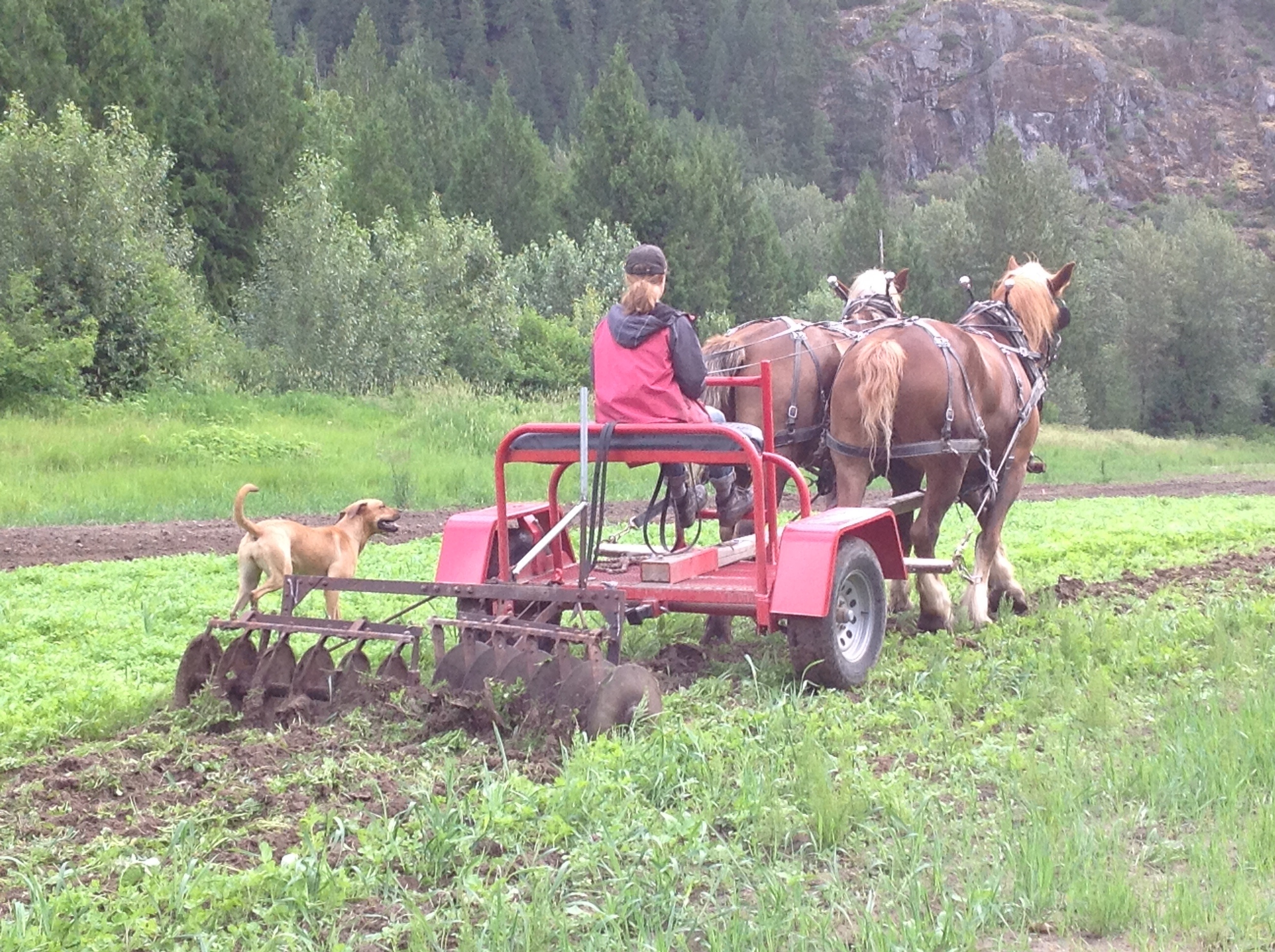 As a final note, horses appreciate the importance of a morning routine, of stopping for a midday break in the shade, of that extra ten seconds of grooming before suit- ing up for the day, and this is reflected in their work quality and productivity. I daresay I am similar but am equally prone to working myself into the ground when left to my own devices. Farming can be overwhelming on the quietest of days, but 4,000 lb of friendly, hay-burning accountability helps to keep me physically, emotionally, and financially grounded and present.
It goes without saying that there are unique challenges. Sometimes my horses have had several days off and have lots of energy and need to pull something heavy for a half hour to let off steam before they are ready to carefully cultivate baby beets. Sometimes even when they are doing a spectacular job a bear pops out of the woods and causes a hoof to sidestep, which can mean a few broccoli plants get stepped on. Sometimes I am amazed by how often I need to buy hay or set up a new pasture fence, and I have to remind myself that relying on a renewable fuel source that can be bought from neighbouring farmers and turned into next year's compost pile is worth more than just the cost of hay on a budget sheet.
So that is a bit of what happened in this first year of horse-powered vegetable farming in southwestern BC. Lucky for me, as the list of things I know I don't know just continues to grow, there is plenty of work to enjoy for a long while yet.
---
Originally from Vancouver, Naomi Martz is thrilled to have stumbled across a career that incorporates her love of math, mornings, and good food. She sees farming as an excuse to tromp around in the rain, a means of satisfying her appetite for carrots and community, and a way to live well in a changing world.