By Carly McGregor
Research conducted by Carly McGregor, Matthew Tsuruda, Tyler Kelly, Martina Clausen, Claire Kremen, and Juli Carrillo, University of British Columbia
In collaboration with Drew Bondar, Connor Hawey, and Christine Schmalz, Delta Farmland & Wildlife Trust
A research collaboration between the University of British Columbia (UBC) and Delta Farmland & Wildlife Trust (DF&WT) showed how marginal spaces on farms can promote biodiversity by helping beneficial insects flourish. It is already known that these marginal spaces—when managed appropriately—benefit soil health, but they can also be a tool for farmers to support a thriving insect community.
It's no secret that insects and farmers have a complicated relationship. While pest insects can have a devastating impact on crops, a healthy population of diverse pollinators and pest predators can make the difference between an uninspired, meager crop and a lush harvest.
Conventional farming techniques can harm biodiversity in any number of ways: synthetic pesticides have toxic health effects on organisms beyond just targeted pests; herbicide sprays reduce plant diversity and thus access to nutritional resources for other wildlife; and the frequent disturbance of natural areas can destroy wildlife habitat. That said, growers are continually caught in cost-benefit calculations, often stuck on the pesticide treadmill to maintain yields and quality harvests.
Organic farming represents a pushback against some of these practices, but comes with the added stress of not being able to rely on synthetic chemicals.
Beyond natural pesticide alternatives, another key tool in the organic grower's belt is the effective management of non-crop zones on farms, which falls under both the crop diversification and integrated pest management pillars of organic farming. Non-crop zones can include marginal areas that aren't ideal for growing crops, alleyways between crop rows or along field edges, and set-aside fallow fields.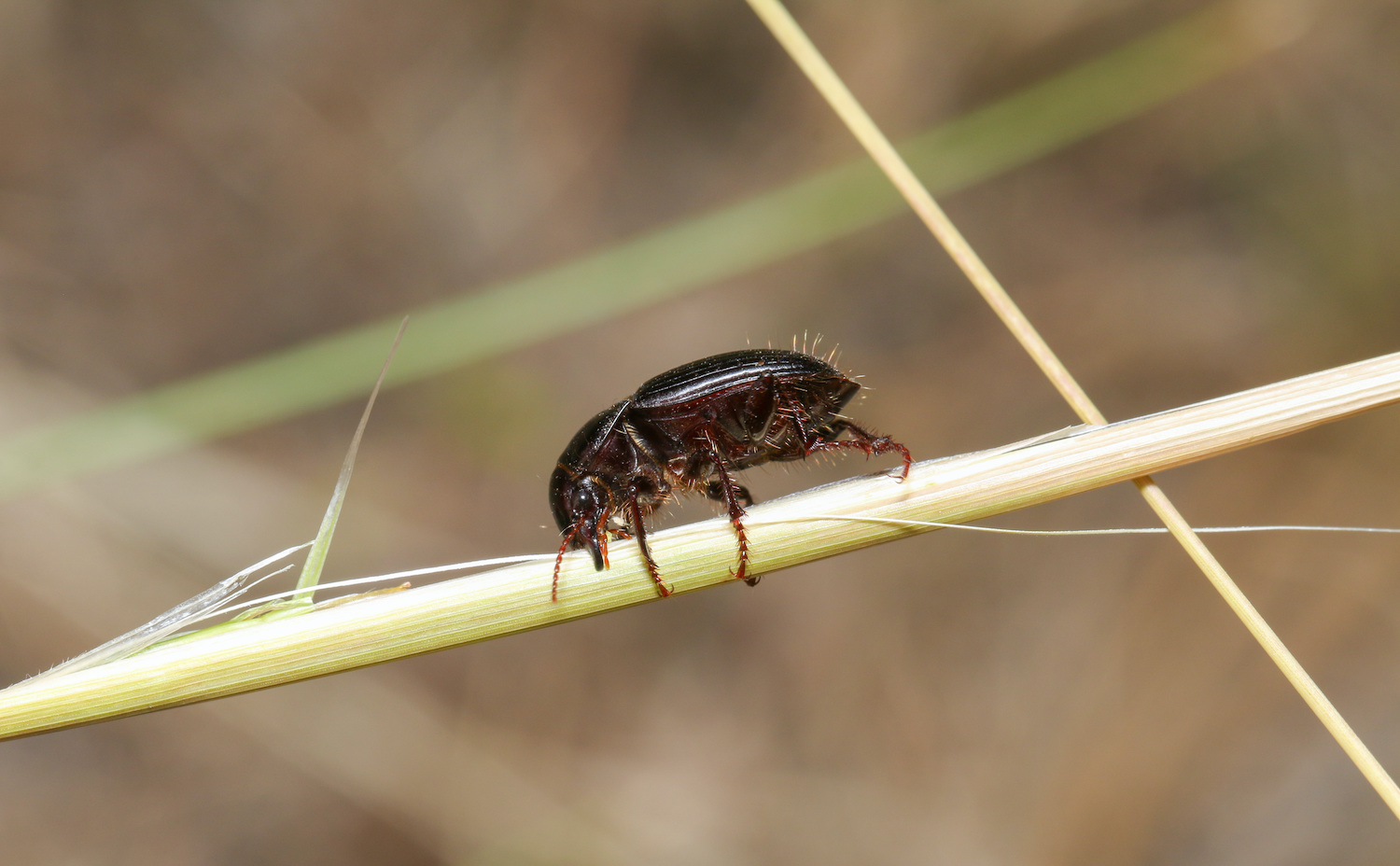 Left alone, non-crop zones can likely provide some benefits to biodiversity, but several research studies suggest that selectively planting certain plant species in these zones can enhance their potential, especially for beneficial biodiversity such as pollinators and natural predators of crop pests (insects and birds). Several organizations in BC run stewardship programs that promote the establishment of these 'habitat enhancements' on farms, one of which is the DF&WT, located in Delta, BC. The DF&WT's Hedgerow Program assists growers with the selection and planting of hedgerow trees and shrubs in crop field margins, and their Grassland Set-Aside (GLSA) program offers cost-share benefit that supports growers in establishing and keeping GLSAs for up to four years. While previous research has shown that these habitat enhancements can improve soil health, the specific effects of these enhancements on pollinators, pest insects, and natural biological control was unknown.
Our research group collaborated with the DF&WT to evaluate the success of habitat enhancements to support beneficial insects, focusing on pollinators and natural enemy insects. For field margins, we assessed DF&WT-planted hedgerows and compared them to unmanaged trees and shrubs—what we call 'remnant' hedgerows—as well as unplanted grassy margins. We also investigated grass-dominant 'traditional' GLSAs planted through the DF&WT GLSA Program, and flower-supplemented 'pollinator' GLSAs, which a Delta grower began planting a few years ago in an effort to support pollinators by providing diverse flowers as a foraging resource.
We observed a clear preference for the flowers on planted hedgerows by honey bees and bumble bees. We weren't surprised, as these bees are known to love members of the rose family, including the Nootka roses planted in DF&WT hedgerows, and the Himalayan blackberry that often invades and overtops shrub plantings. We also observed slightly more ground beetles (important natural enemies of spotted wing drosophila, a highly destructive berry crop pest rampant in the Lower Mainland) in the hedgerows compared to grassy field margins.
While hedgerows appear to support more honey bees and bumble bees than grassy margins, our results showed a similar liking to both margin types by the wild pollinator community as a whole. These results may be driven by smaller wild pollinators, such as sweat bees and flower flies. Collectively, they tend to prefer the smaller weedy flowers found both in grassy margins and hedgerows, as their mouthparts do not allow them to access nectar from larger or more tubular flowers. Grassy field margins thus likely support wild pollinators in a similar capacity as hedgerows, but perhaps offer resources that are preferred by smaller bees and flower flies. We also found that they support far more pollinators than within actively-managed crop fields. Grassy field margins can also support parasitoid wasps, which may provide some biological control for spotted wing drosophila populations, since several of the weedy plants common in field margins have extrafloral nectaries that feed parasitoids.
Moving to the much larger set-asides, we observed that these supported pollinators better than active crop fields did, both with and without added flowers. Honey bees were most abundant in the pollinator (i.e. flower-supplemented) GLSAs, while bumble bees were far more common in both the traditional (i.e. grass-dominant) and pollinator GLSAs compared to the active crop fields. When examining the whole wild pollinator community, pollinator GLSAs had the highest abundance and diversity, and active crop fields had the lowest, with traditional GLSAs coming in second place.
We observed many beneficial insects directly foraging for nutrients on the abundant flowers in pollinator set-asides, which suggests that this type of set-aside was providing its intended resource. Comparatively, since traditional set-asides provided few floral resources (we either observed only clovers in these fields, or no flowers at all), the higher abundance and diversity of pollinators at traditional sites suggests they may supply nesting sites for ground-nesting bees. These bees include bumble bees, which opportunistically nest in abandoned rodent nests, and many species of sweat bees, which burrow their own nests in undisturbed open ground areas. Both types of potential nesting habitat are often found in traditional set-asides. In addition to supporting pollinators, we found a much higher abundance of predatory ground beetles in pollinator set-asides compared to crop fields.
Altogether, these findings provide evidence that grassland set-asides provide key resources for beneficial insects in an agricultural setting. This is another great reason to include set-asides in regular crop rotations – they can support soil health and beneficial insects!
Our research supports non-crop areas as holding great potential for supporting beneficial insects on farms. We found that each type of non-crop area—from unmanaged grassy margins, to planted hedgerows, remnant hedgerows, and both grass-dominant and flower-supplemented set-asides—best supports some portion of the beneficial insect community. If we were to leave organic growers with one takeaway from our research, it would be that the best land management practices likely involve the inclusion of a range of natural and enhanced habitats across farmland. Although integrated land management is no simple feat, careful and diversification-minded habitat management can help harness the often-untapped conservation potential that lies in those otherwise-forgotten marginal spaces on farms.
piee-lab.landfood.ubc.ca
worcslab.ubc.ca
deltafarmland.ca
---
Carly McGregor is the Lab Manager for the Plant-Insect Ecology & Evolution Research Lab and is a big fan of how fuzzy bumble bees are. 
Featured image: Bumble bees visiting goldenrod flowers. Credit: Carly McGregor.