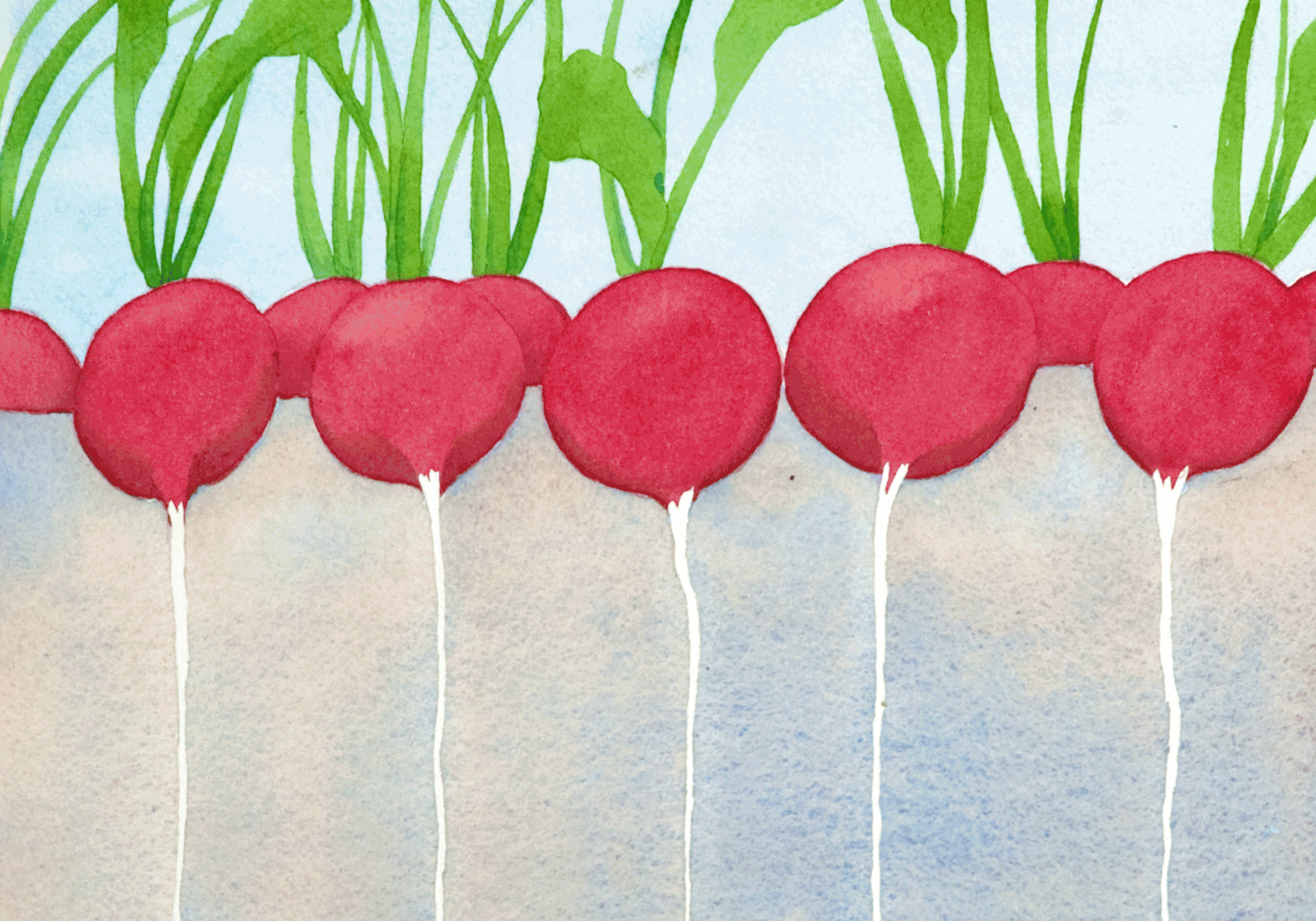 Editor's note: We're taking a detour from the usual Organic Standards focus of Footnotes to explore the inspiration that can strike while working in the field. A farmer's life is more than physical labour and paperwork—spending so much time in the natural world opens a window into art for many, including Cathie Allen, who wrote about her art for this issue.
Cathie Allen
"Stored away in the root cellar of my mind" is how Cathie Allen begins to discuss the subjects of her watercolour paintings. Like all full-time organic market gardeners, Cathie's summer life is consumed by cauliflower, chickens, meals for the crew, and everything else that makes up a farm. Yet, these seasonal images linger, and are "stored away" (and sometimes reinforced with photographs) until winter, when they come back to life with brush and paper.
For the most part self-taught, Cathie acknowledges the inspiration she received from her Mom, who at 90 still paints; she was also strongly influenced by Karen Muntean, who provided instruction at the Island Mountain School of Arts in Wells, BC. Cathie's work has been described as "fresh", "keenly sensitive to detail", with an "earthiness" that saturates it all.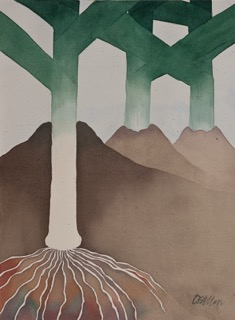 Her recent works, the root series, are filled with good examples. "With these paintings, I wanted to expose some of the beautiful vegetables which mostly grow underground, often unnoticed. Especially nowadays with the huge disconnect between people and their food sources, much more than flavour and nutrition stand to be lost." Her root series consists of 10 original watercolour paintings, featuring beets, summer turnips, leeks, potatoes, shallots, radishes, garlic, parsnips, carrots, and onions.
The painting with the horses, the one she calls "family portrait", depicts the four black percheron horses working abreast, pulling a disc. It was these four horses who broke the five-acre market garden, half an acre a year. "Sadly, these four horses are now all buried here, but we have a replacement team to carry on with the farm work and provide me with future inspiration", adds Cathie.
Cathie's work has been displayed in Cariboo and Central Interior galleries, as well as being selected for display by the BC Festival of the Arts. She also painted the cover and chapter illustrations for a children's historical novel, Moses, Me, and Murder.
---
Cathie Allen has been a life-long painter. She lives and farms with her partner Rob Borsato at Mackin Creek, on the west side of the Fraser River, about 45 kms north of Williams Lake, BC. They have operated Mackin Creek Farm, a five acre, horse-powered market garden, since 1988.